Congratulations on your decision to pursue pathology as a career, and thank you for considering the Pathology Residency Program at Duke University Medical Center!
Congratulations on your decision to pursue pathology as a career, and thank you for considering the Pathology Residency Program at Duke University Medical Center.
Our program provides a collegial and supportive learning environment that fosters each resident's development. The anatomic and clinical pathology training program includes daily teaching conferences; one-on-one sign-out sessions with faculty; abundant research opportunities; and time for electives so that residents can pursue their individual interests. Our residents have a comfortable work environment with microscopes, laptop computers, and individual desks located on the edge of Duke's picturesque undergraduate campus. Our trainees are provided with a generous book fund, a recently increased travel fund, extensive study materials, and an administration that is open to feedback and continuous improvement.
Duke University Medical Center is a regional and international tertiary care hospital that provides pathology laboratory services to a wide variety of patients. Our anatomic and clinical pathology cases range from common entities to rare diagnoses. Duke provides the opportunity to work and learn at the intersection of patient care, interdisciplinary diagnostics and translational research.
As a resident at Duke, you will be well-supported. Pathologists' assistants teach the residents the technical aspects of grossing surgical specimens and how to perform autopsies. The high level of PA support at Duke enables residents to spend time previewing slides and grossing complex specimens. Cytotechnologists participate in the busy fine needle aspiration service and teach residents to perform rapid onsite evaluations of cytologic specimens. Photographers in our PhotoPath Lab assist with photographing specimens, and with preparing academic projects. Numerous staff assistants provide administrative support, case organization, and scheduling for the multiple divisions within the department. The high level of support at Duke means that you are provided the best possible environment in which to thrive during your residency.
Many residents are active members and leaders in local, national, and international scientific organizations, like the North Carolina Society of Pathologists, the United States and Canadian Academy of Pathology, the College of American Pathologists and the American Society of Clinical Pathologists. Within the hospital, we are involved in the Residency Council and the Patient Safety Quality Committee, and our residents participate in consensus conferences. We play an active role in medical student education by teaching alongside our attendings in the Duke School of Medicine first-year Pathology course each spring and throughout medical student Pathology electives. Additionally, senior residents teach PGY1 residents in our "Intro to Histology" course, as well as in the gross room and at the microscope throughout the first few months of residency. Numerous well-being events and activities throughout the year foster camaraderie among residents.
The main goal of our Residency Program is to provide our residents with the support and skills necessary to pursue a career in academia, private practice, research, or industry. Please peruse our website for more information and email us with any questions you may have. We look forward to hearing from you.
All the best,
Ashley Rose Scholl, MD, MSc, West Virginia University School of Medicine and Tyler Wildes, MD, PhD, University of Florida College of Medicine
Chief Residents, Department of Pathology
Duke University Medical Center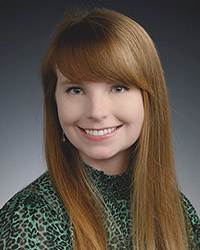 Ashley Rose Scholl, MD, MSc
Co-Chief Resident in Pathology
West Virginia University School of Medicine
Email