Congratulations on your decision to pursue pathology as a career, and thank you for considering the Pathology Residency Program at Duke University Medical Center!
Our Pathology Residency Program provides a collegial and supportive learning environment that fosters each resident's full potential. The anatomic and clinical pathology training program includes daily teaching conferences, such as didactic lectures, slide sessions, and journal clubs; one-on-one sign-out sessions with faculty; abundant research opportunities; and time for electives so that residents can pursue their individual interests. Our residents have a comfortable work environment with individual desks, microscopes, and laptop computers; are provided with a generous book/travel fund; and have full access to the Duke University Medical Center's library materials.
Duke University Medical Center is a regional and international tertiary care hospital that provides pathology laboratory services to a wide variety of patients. Our anatomic and clinical pathology cases range from common entities to rare and unusual diagnoses, with everything in between. Duke provides the opportunity to work and learn in the exciting intersection of patient care, interdisciplinary diagnostics, and translational research.
Our department provides excellent support services. Pathologists' assistants teach the residents the technical aspects of surgical and autopsy pathology, and they enable the residents to spend time previewing slides and grossing complex specimens. Cytotechnologists participate in the busy fine needle aspiration service. PhotoPath assists in the photography of specimens and in the preparation of academic projects.
Many of us are active members and leaders in local, national, and international scientific organizations, such as the North Carolina Society of Pathologists, the United States and Canadian Academy of Pathology, the College of American Pathologists, and the American Society of Clinical Pathologists. Within the hospital, we are involved in Residency Council and the Patient Safety Quality Committee, and our residents participate in interdepartmental conferences, such as multidisciplinary tumor boards. We play an active role in medical student education by teaching alongside our attendings in the Duke School of Medicine first-year pathology course each spring and through medical student pathology electives.
In summary, the main goal of our residency program is to provide our residents with the support and skills necessary to pursue a career in academia, private practice, research, or industry. Please peruse our website for more information and feel free to email us with any questions you may have!
All the best,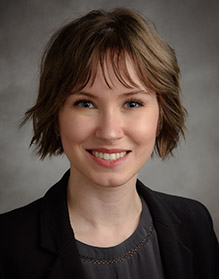 Kristen Logan, MD
Co-Chief Resident in Pathology
University of South Carolina School of Medicine 
Email