A pathologists' assistant (PA) is a highly trained allied health professional who provides various services under the direction and supervision of a pathologist.
Pathologists' assistants interact with pathologists in a manner similar to physician's assistants in surgical and medical practice, carrying out their duties under the direction of their physicians. PAs are academically and practically trained to provide accurate and timely processing of a variety of laboratory specimens, including the majority of pathological specimens. PAs are key components to helping make a pathologic diagnosis, but it is the sole province of the pathologist to render a diagnosis.
The majority of pathologists' assistants are responsible for the gross examination and dissection of anatomic pathology specimens and the performance of postmortem examinations. PAs prepare tissue for numerous pathological tests including frozen section, flow cytometry, molecular studies, cytogenetics, and immunohistochemical staining. PAs may photograph gross and microscopic specimens, help prepare educational conferences and provide training to pathology personnel, including pathology residents. The duties of a pathologists' assistant are not always limited to anatomic and surgical pathology; many PAs fill administrative, instructional and supervisory roles as well. PAs are a crucial extension of the pathologist in the healthcare setting, working as a liaison to other departments and laboratories to ensure quality healthcare.
Pathologists' assistants perform in a wide scope of clinical practices. Although the majority of pathologists' assistants work in academic and community hospitals, PAs can also be employed in other areas such as private pathology laboratories, forensic pathology laboratories and morgues, reference laboratories, government healthcare systems, and medical teaching facilities. Some PAs are even self-employed business owners providing their pathology expertise via long- and short-term contract.
Pathologists' assistants contribute to the overall efficiency of the laboratory or pathology practice in a cost effective manner. With increased pressure on healthcare systems to control costs, the demand for qualified pathologists' assistant is growing every year.
History of the Pathologists' Assistant Profession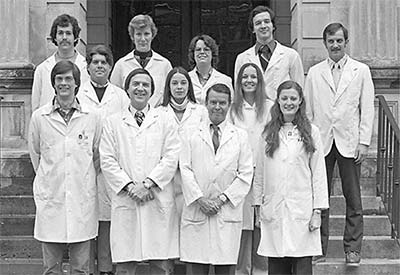 In 1965, Dr. Eugene Stead at Duke University Medical Center pioneered the concept of physician extenders when he established the nation's first physician assistant program. This allied health profession differed significantly from all other allied health professions because rather than being another support profession working independently on tasks not considered to be the practice of medicine, these individuals were trained to perform tasks previously performed exclusively by physicians. Dr. Thomas Kinney, Chairman of Pathology at Duke University Medical Center, saw a need for similar professionals in anatomic pathology so he initiated the nation's first pathologists' assistant program in 1969. These professionals were trained to perform tasks, under a pathologist's supervision, in autopsy and surgical pathology that had previously been performed by pathologists. Since that time, other programs have been established and the profession has grown in number and stature. The training programs have grown from certificate programs to bachelor's degree programs and currently, all of the programs are graduate level offering Master's degrees.
At its inception, the physician assistant profession was mentored and structured by the American Medical Association and accreditation of training programs and certification of individuals were established. Because of the small number of pathologists' assistants, high degree of specialization, and uneven initial acceptance of the profession by national pathology organizations, no guiding physician or pathology organization would establish criteria for training programs and credentials for individuals. This task was assumed by the national professional organization of pathologists' assistants, The American Association of Pathologists' Assistants (AAPA), which was founded and incorporated as a not-for-profit organization under the statutes of Ohio in 1972. The objectives of the organization were to:
Benefit and further the profession by promoting and maintaining high standards of ethical conduct.
Provide continuing medical education for its members and work for the development of additional Pathologists' Assistant training programs.
Inform the public and medical profession as to the goals and professional capabilities of the Pathologists' Assistant.
Implement new programs that will help maintain the status of the AAPA and its members as a vital link in the health care chain.
The AAPA held its first meeting in Atlanta in 1975. The first goals set by the organization were guidelines for training programs, a mechanism for approval of training programs, and the development of an examination for fellow status of membership in the AAPA. Graduates from AAPA approved programs or persons with a bachelor's degree and three years of AAPA approved on-the-job-training were eligible to sit for the examination. The major long-term goal of the AAPA was to achieve professional recognition for pathologists' assistants through establishing both independent accreditation of training programs and national certification of individual practitioners. The program approval and membership examination of the AAPA has served as de facto accreditation and certification by many employers for over 25 years.
In 1995, the National Accrediting Agency for Clinical Laboratory Sciences (NAACLS), following negotiations with the AAPA, agreed to accredit training programs. Over the following two years, all of the former AAPA approved programs became accredited. Subsequently, all of the initially accredited programs have been through several rounds of evaluation by NAACLS. All programs have been re-accredited.
In 2000, the National Commission for the Certification of Pathologists' Assistants was formed and held its first meeting in Toronto in conjunction with the annual AAPA meeting. The Commission was comprised of representatives from most major stakeholders in the practice of pathology. The Commission was charged with assuring the development and implementation of a national certification process for Pathologists' Assistants. The Commission partnered with the American Society of Clinical Pathology and the first national certification was held in Boston in September 2005 in conjunction with the annual AAPA meeting. Certification is now available only to graduates of NAACLS accredited Pathologists' Assistant Programs, no longer to on-the-job-trained individuals and the board of certification examination is offered through the ASCP as Computer Adaptive Testing at multiple Pearson Professional Centers throughout the United States. Every three years, a certified PA must demonstrate sufficient CME to maintain ASCP certification.
Today, the American Association of Pathologists' Assistants (AAPA) is dedicated to the advocacy and advancement of the pathologists' assistant profession.  The AAPA advocates, promotes and sustains the highest education and professional standards for the profession, for all associated educational training programs and for individual pathologists' assistants.  The mission to provide its members with high quality targeted continuing medical education (CME) opportunities, as well as professional development and leadership activities to include networking and support.  Additionally, the AAPA strives to promote and support high quality standards within the scope of practice for pathologists' assistants in anatomic pathology, ensuring the provision of high quality patient care.
* See the article about the history of the PA program from Archives of Pathology. *