Jiaoti Huang, MD, PhD became Chairman in January 2016. He is a nationally and internationally recognized expert in genitourinary pathology.
He has an active research program studying different aspects of prostate cancer, including the molecular mechanisms of carcinogenesis, biomarkers, and novel therapeutics. He is committed to providing an intellectually stimulating and rewarding residency experience through rigorous training and expanded research opportunities.
Chair's Message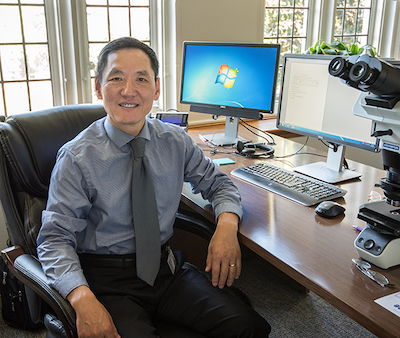 Pathology is a discipline that bridges basic research with clinical medicine. Our department faculty comprises basic, translational and clinical researchers, as well as diagnostic pathologists. Our scientists have a wide variety of research interests, including cancer, infectious disease, immunity, genetics, genomics and tissue injury. Our clinicians and physician-scientists work in two major divisions: anatomic pathology and clinical pathology.
Our pathologists in the anatomic pathology division handle the histologic diagnosis of tissue specimens for patient care and perform autopsies to determine the cause of death. Our clinical pathologists direct Duke Health System Clinical Laboratories and oversee testing that ranges from traditional microbiology, clinical chemistry and transfusion medicine to molecular pathology and modern genomics.
We have a strong residency program, a fellowship program that encompasses multiple subspecialties of pathology, and a Pathologists' Assistant Program. We also house Duke's only clinical department-based PhD program, which is dedicated to training students in translational science. We benefit from being part of an outstanding university, medical school and health system. Our campus is contiguous and the professional schools and the college are within walking distance, which fosters collaboration. Many of our faculty members are affiliated with the Duke Cancer Institute, providing a wealth of collaborative opportunities.
In addition to the exciting intellectual pursuits, we enjoy a beautiful campus and the natural scenery of the United States Southeast Region, with easy access to breathtaking mountains and beautiful beaches. We are minutes away from several major universities and the Research Triangle Park, home to many traditional firms and cutting-edge technology companies. The Triangle area is consistently ranked one of the best places to live in the United States. It is ideal for young professionals who enjoy performing arts, museums, restaurants and sports and families with children have easy access to award-winning schools.
The Department of Pathology is entering a period of rapid expansion. Over the next few years, we will recruit a number of outstanding investigators, clinicians, and physician-scientists. I encourage you to take advantage of the contents our website has to offer and learn the various aspects of our department. Happy browsing! 
Jiaoti Huang, MD, PhD
Professor and Chairman, Department of Pathology