Duke Pathology offers a one-year post-sophomore fellowship opportunity for Duke medical students
interested in pursuing a career in pathology. One to two positions are available each academic year.
Students who have finished their junior year of medical school may also apply.
The goal of the fellowship is to provide a total immersion experience similar to that of a PGY-1 pathology resident. The fellow will have rotations in surgical pathology, autopsy pathology, and clinical pathology. Elective months are available in subspecialties including dermatopathology, neuropathology, GI pathology, cytopathology, hematopathology, and others. Clinical pathology months may include transfusion medicine, flow cytometry, microbiology, molecular pathology, and others. The program is flexible, and can be adjusted and modified depending on the interest of the student.
The fellow will always be under the supervision of pathology residents and faculty, and will participate in frozen sections, grossing, autopsies, and on-call responsibilities. The fellow will attend and participate in daily teaching conferences. The fellow may also elect to propose a clinical research project and select a research mentor within the department. Presentation of research findings at a national conference is encouraged and supported.
Requirements
Students must be in good academic standing and have completed at least two or three years of medical school prior to the fellowship. The preferred starting date is July 1 but can be adjusted depending on the medical school schedule. Applicants under consideration will be invited for an interview.
Application
(This fellowship is currently filled for 2023-2024.)
Please submit the following documents prior to February 1:
Curriculum vitae
Personal statement
Two letters of recommendation
USMLE Step 1 (optional)
Stipend and Benefits
The fellows will receive a stipend and a book/travel allowance from the Pathology Department. Insurance benefits are also provided.
Email your application package to the Program Coordinator, Maranda Oliver.
Michelle Schneider, MB BCh BAO
Assistant Professor of Pathology
Director, Post-Sophomore Fellowship
2022-2023 Post-Sophomore Fellow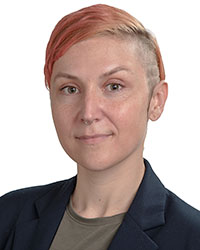 Name: Alyssa Cozzo
Hometown: Berea, KY

College: University of California, Berkeley (BS), University of North Carolina-Chapel Hill (PhD)

Medical School: Duke University School of Medicine

Residency Plans: Still deciding between Pathology, Medical oncology, and Radiation oncology

Career Goals: My goal is to be an academic physician at a large teaching hospital (preferably Duke!) where I can be involved in diagnosis and treatment of patients while contributing to the training of future generations of medical students. A career in pathology would allow me to combine a mechanistic approach to medicine and patient care with my passions for teaching and research.

Hobbies and Interests: My hobbies outside of medical school include hiking with my wonderful dog, Sadie Mae, gardening/DIY projects, tattooing, cooking, puzzles, and horror movie nights with friends.

Why Duke: Patients come from all over NC and even surrounding states to receive their care at Duke, yielding a training environment with exposure to a wide variety of simple and complex medical concerns that is beyond that of most medical schools. Additionally, The Duke Cancer Center is an NCI-designated Comprehensive Cancer Center, providing training in phenomenal patient care, cutting edge research and technologies, and unique approaches to cancer treatment. And the Pathology department at Duke is such a warm and welcoming environment in which to learn everything I can about cancer!

Why Durham: What's not to like? There are parks and greenspaces everywhere you look, the Eno River is right nearby, the food is amazing, and the people are progressive and diverse. Plus, there are lots of opportunities for weekend trips to the Blue Ridge Mountains in Asheville or the beaches of the Outer Banks.