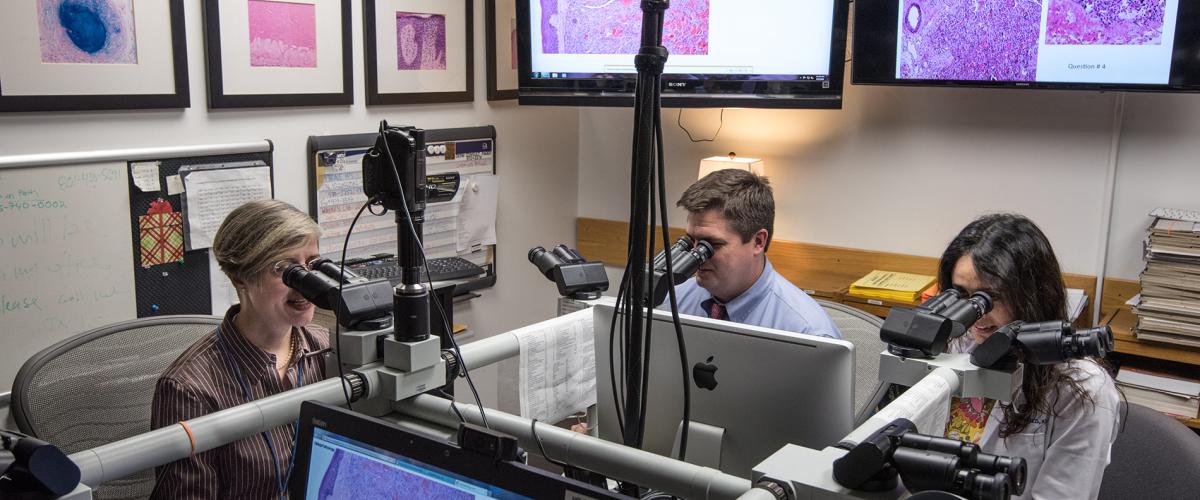 Duke University Medical Center offers a one-year ACGME accredited Dermatopathology fellowship.
The program provides theoretical and practical educational experiences designed to prepare individuals with a background in pathology or dermatology.
For trainees who completed pathology residency:
First eight months: 50% training in clinical dermatology and 50% training in dermatopathology.
Remaining four months: dermatopathology training.
For trainees who completed dermatology residency:
First eight months: 50% training in anatomic/surgical pathology and 50% training in dermatopathology.
Remaining four months: dermatopathology training.
There is a large selection of in-house as well as consult cases including neoplastic and non-neoplastic cutaneous disorders. Training includes the use of a variety of special staining techniques (histochemical and immunohistochemical), electron microscopy, immunofluorescence, and molecular pathology.
The trainee will have graduated responsibility in the sign out of these cases and expected to be active in providing teaching session for both pathology and dermatology Duke residents. Research is strongly encouraged, the trainee will be expected to select an area of interest in the specialty and pursue them through a clinical/basic research project.
Mission Statement
The mission of Duke Dermatopathology is to the improve quality of life by providing exceptional and innovative care to patients, families, and the community through the integration of clinical care, education, and research in a diverse setting.
Program's Aim
Provide the most advanced and comprehensive dermatopathology education; to prepare our fellows for a lifetime of learning and for careers as leaders, practitioners, and researchers.
Constantly emphasize the importance of delivering the best diagnosis for our patients by dermatologic and pathologic correlation, utilizing only necessary ancillary tests, and communicate with our clinical teams to deliver the best patient care.
Practice clinical dermatopathology with compassion and in a manner that translates the results of our training, research, and the unique clinical and technological resources of the Medical Center into the highest quality of care to the public.
Perform translational research to further our understanding of various dermatologic disorders which lead to the prevention and cure of disease and enhanced health.
Practice in a diverse setting while establishing a sense of belonging for everyone.
Eligibility Requirements
MD applicants must have completed postgraduate training in an ACGME Dermatology or Anatomic/Clinical Pathology (AP/CP) or Anatomic Pathology (AP) training program.
The Department of Pathology sponsors J1 Visa applications. Please note your current Visa status on the application form.
Application Package
Completed Duke Dermatopathology Application Form with Signature (Please click here for application form). 
Curriculum Vitae
Personal statement
Copies of Medical School transcript
ECFMG Certificate (if applicable)
Copies of USMLE/COMLEX or equivalent standardized tests
Three letters of recommendation (including one from residency program director)
Email your application package to Program Coordinator Brittany Harris.
Address letters of recommendation to:
Rami N. Al-Rohil, MBBS
Director, Dermatopathology Fellowship
ATTENTION: Brittany Harris
Duke University Medical Center
DUMC 3712
Durham, NC 27710
Click here to see our Twitter feed highlighting some of our most interesting cases.
Important Dates
| | |
| --- | --- |
| 2023-2024 Fellowship | Filled |
| 2024-2025 Fellowship | Filled |
| 2025-2026 Fellowship | Accepting applications from June 1 to July 31, 2023 |
Current Fellow
Faculty