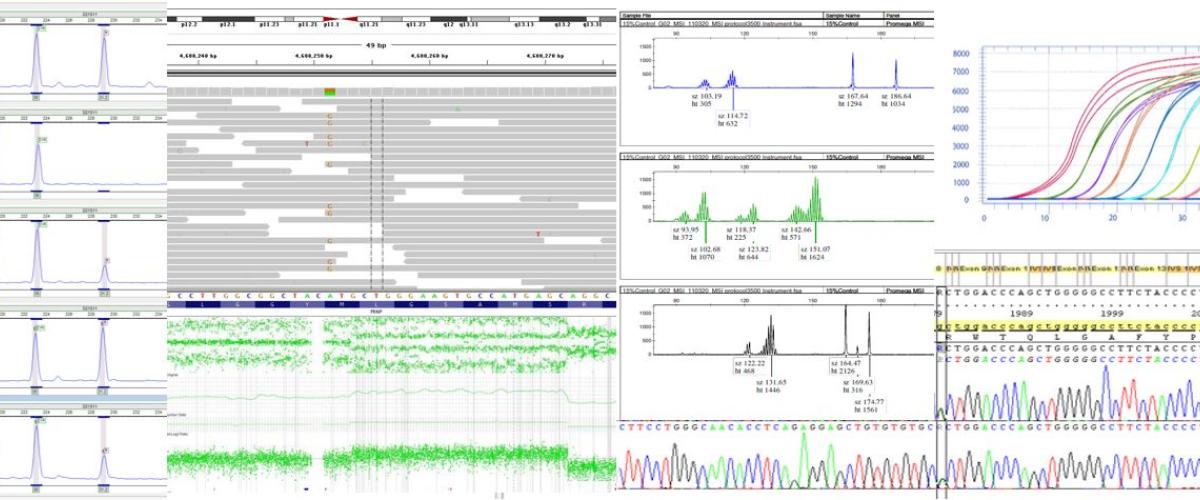 The Duke Molecular Genetic Pathology (MGP) Fellowship combines advanced clinical training in a high volume, high complexity molecular diagnostics laboratory with myriad opportunities to further academic interests. Training occurs primarily on the main campus of Duke University Hospital in the combined Molecular Pathology, Genetics and Genomics (MPGG) clinical laboratory that processes nearly 17,000 samples for cytogenetic and molecular testing annually. Fellows are exposed to a wide variety of constitutional and oncologic testing using over 50 assays including:
Comprehensive genomic profiling (solid tumor)
NGS and Sanger sequencing (hematologic malignancy, solid tumor, and constitutional)
RNA-based fusion panels (hematologic malignancy, solid tumor)
Clonality studies by NGS (T-cell, B-cell, IGH somatic hypermutation)
Microarray analysis (constitutional and solid tumor)
Methylation assays (PWS/AS, MLH1 promoter)
Carrier screening (cystic fibrosis, hemochromatosis, SMA, Fragile X, etc.)
qPCR (BCR/ABL1 quantification, somatic mutation detection)
STR analysis (bone marrow engraftment, MSI, sample identity, molar pregnancy)
Cytogenetics assays including karyotyping and FISH (hematologic malignancy, solid tumor, constitutional)
Program Overview
Positions offered per year: One
Program duration: 1 year
Accrediting body: Accreditation Council for Graduate Medical Education (ACGME)
Eligibility Requirements
Prior successful completion of an ACGME accredited AP/CP, AP, or CP Pathology residency training program.  Applicants who have completed 3 years of a 4-year AP/CP program will be considered on a case by case basis.
Additional links pertaining to eligibility requirements:
Additional links pertaining to MGP certification through the ABP
Important Dates*
2023-2024 Fellowship: Filled
2024-2025 Fellowship: Filled
2025-2026 Fellowship: Filled
*The Duke MGP program participates in the MGP Unified Timeline published by the Association of Molecular Pathology (AMP), with dates reflected above. 
**Any trainee who is at Duke the year prior to the fellowship start date is eligible for early decision consideration (e.g. current Duke residents or trainees who will be completing a Duke fellowship the prior year).
How to Apply
Submit the following requested documents:
Cover Letter
Personal statement
Curriculum Vitae
ECFMG certificate (if applicable)
Copies of USMLE/COMLEX transcripts
Three letters of recommendation (including one from residency program director)
Address letters of recommendation to:
Jadee Neff, MD, PhD
Director, Molecular Genetic Pathology fellowship program, Department of Pathology
Duke University Health System
40 Duke Medicine Circle
Durham, NC 27710
Email your package to Program Coordinator Brittany Harris.
Applications will be accepted starting June 1 two years prior to the anticipated start date and will continue until the position is filled.
All applications are considered without regard to race, religion, gender, or national origin.
Stipends
Commensurate with the year of postgraduate training.
Personnel
Program Director
Jadee Neff, MD, PhD
Hematopathology and Molecular Genetic Pathology
Other Faculty
Program Coordinator
Brittany Harris
Program Coordinator
Department of Pathology
Box 3712 DUMC
Durham, NC 27710
919.681.1563
Email