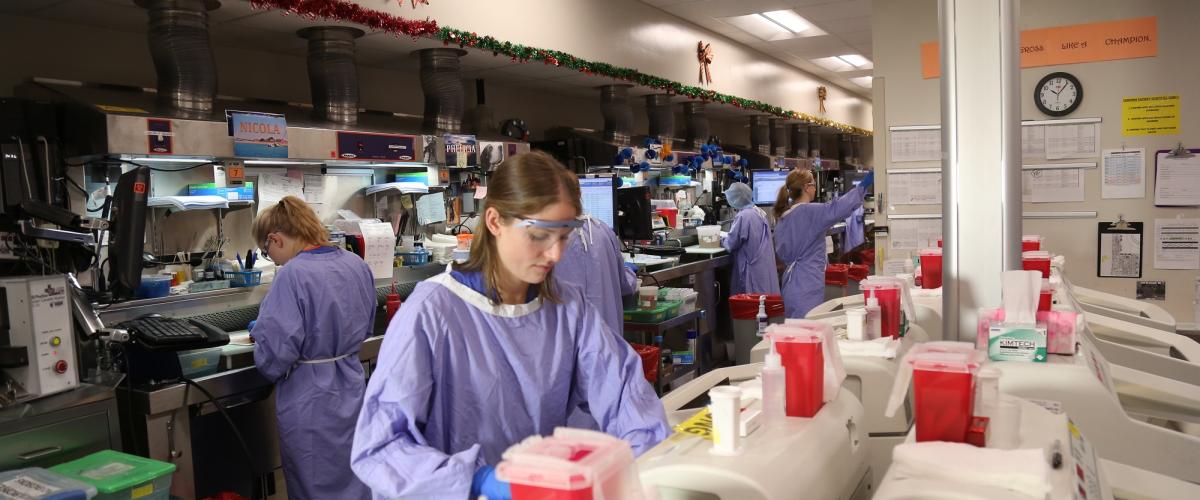 The Department of Pathology of the Duke University Health System annually seeks academically oriented, Board certified or eligible surgical pathologists who desire an additional one year of training in surgical pathology.
The relative distributions of clinical service/patient care responsibilities (pure or mixed subspecialty including general surgical pathology) will be tailored to the successful applicant's experience and career goals for two general surgical pathology fellows. In addition, the Department supports annually one fellow who wishes to specialize in GI, pancreas, and liver.
The Department has 66 faculty and 23 residents and clinical fellows in anatomic and clinical pathology in a predominantly subspecialties oriented model. Surgical Pathology processes over 45,000 accessions. The successful candidates will have a primary interest in genito-urinary, gastrointestinal, gynecologic, breast, or head and neck pathology but also with an interest in other areas of surgical pathology. The environment at Duke provides rich opportunities for exceptional clinical and translational research, both within the Department and in other Centers of Excellence in the Medical Center. Applicants should be committed to excellent patient care, as well as teaching, scholarship, and research. Participation in national scientific meetings and clinical research projects is encouraged and supported. Teaching responsibilities include interactions with medical students, residents, fellows and trainees in multiple departments.
Eligibility Requirements
Applicant must be Board certified or eligible in AP/CP or AP and have passed Step 3 of the USMLE. Applicants should be able to successfully obtain a full and unrestricted North Carolina medical license and hospital credentials. Duke Pathology accepts foreign applicants who are United States citizens or lawful permanent residents (i.e. those granted a green card by U.S. Citizenship and Immigration Services). We are unable to accept applicants who hold an H1-B visa or a J1 exchange visitor visa.  
Types and Number of Appointments
Two surgical pathology fellowship positions are available annually.
Stipends
Academic rank and stipends are commensurate with the year of postgraduate training (generally PGY5 and PGY6).
Application
College of American Pathologists Standardized Application for Pathology Fellowships with signature (Click here for application)
Personal statement
Curriculum Vitae
ECFMG certificate (if applicable)
Copies of USMLE/COMLEX transcripts
Three letters of recommendation (including one from current training program director, if applicable)
The Duke Department of Pathology is pleased to offer The Fred and Janet Sanfilippo Fellowship in Surgical Pathology.  This distinction identifies budding pathologists with academic and diagnostic excellence interested in furthering their diagnostic acumen and developing leadership skills.  The Department of Pathology and Duke University Health System boast a wide array of leadership development opportunities in areas including but not limited to: health care policy, informatics, diversity and inclusion, laboratory management, translational research, biorepositories, and medical education.   The fellowship will meld surgical pathology and leadership development in the successful applicant's chosen area of interest.   
Beginning in 2018 and annually thereafter, one surgical pathology fellow is recognized as The Fred and Janet Sanfilippo Fellow in Surgical Pathology.   Interested applicants should indicate their interest for consideration of The Fred and Janet Sanfilippo Fellowship in their cover letters.  Personal statements should address their specific area of interest for leadership development.  If you wish to be considered for the Fred and Janet Sanfilippo Fellowship in Surgical Pathology, complete and submit this form in addition to the above requested materials.
Application materials may be submitted for review via email to Ginger Griffin.
For General Surgical Pathology Fellowships, address Letters of Recommendation to:
Avani Pendse, MD, PhD
Program Director, Surgical Pathology Fellowship
ATTENTION: Ginger Griffin
Duke University Medical Center
DUMC 3712
Durham, NC 27710
Important Dates
2023-2024 SurgPath Fellowship:

  Filled

2024-2025 SurgPath Fellowship: 

Filled

Accepting Applications for 2025-2026: July 1, 2023
Deadline for Applications for 2025-2026: August 31, 2023
Faculty