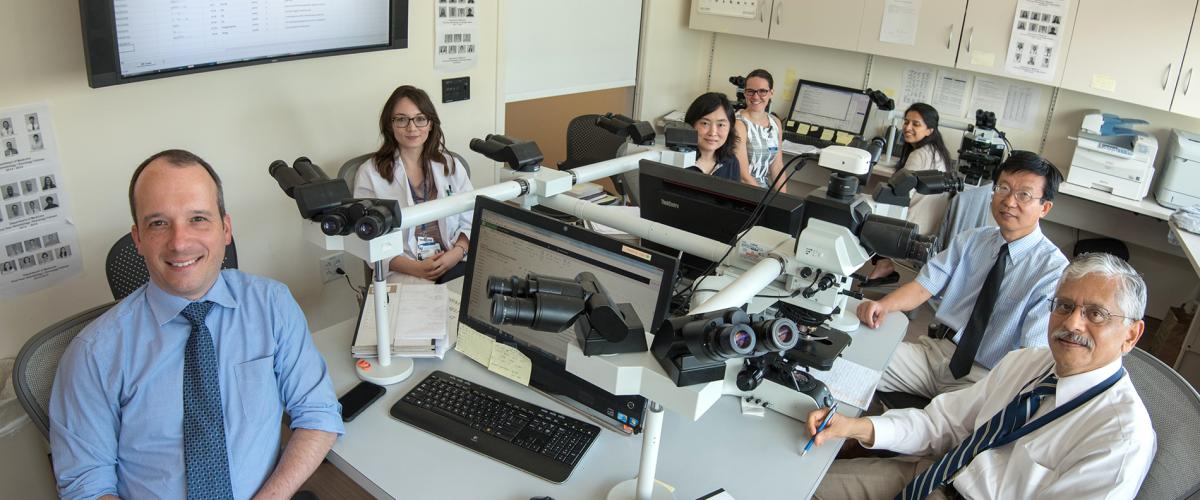 The Department of Pathology at Duke University Medical Center offers a one-year ACGME-accredited fellowship in Hematopathology.
Goals of the Program
To provide a comprehensive experience in adult and pediatric hematopathology, including
morphologic evaluation of lymphoid tissues, bone marrow biopsies and aspirate smears, blood smears and body fluid smears;
the proper technique for performing bone marrow aspirations and biopsies;
evaluation of cellular antigens on leukemias, lymphomas, myeloma and other hematolymphoid conditions by flow cytometry and immunohistochemical analysis;
interpretation of molecular diagnostic assays in context of leukemia and lymphoma;
interpretation of conventional and molecular cytogenetics in the context of leukemia, myeloma and lymphoma;
interpretation of coagulation tests in the context of hemostasis;
interpretation of serum protein electrophoresis, hemoglobin electrophoresis, and other special hematology tests;
operation of automated hematology, such as CBC analyzer;
involvement in management issues associated with various laboratories and regulatory policies that support the hematopathology program.
The annual case volume consists of about 3,000 bone marrow specimens, 1,600 lymph nodes, 5,000 diagnostic flow cytometic assays, 25,000 molecular diagnostic assays, and 3,500 cytogenetics/FISH assays. The program's faculty consists of six full-time hematopathologists and five additional faculty who specialize in laboratory evaluation of hemostasis, molecular diagnostics, and cytogenetics. The fellow will be exposed to a wide variety of clinical and basic investigations and is encouraged to participate in research projects.
Annual Curriculum
Thirteen 4-week blocks of rotation are divided as follows:
7 blocks of diagnostic hematopathology (bone marrow, lymph node, blood smear and body fluid smear evaluations as well as flow cytometric interpretation)
1 block of flow cytometry
1 block of cytogenetics
1 block of molecular diagnostics
1 block of coagulation/automated hematology
1 block of research
1 block of elective
Requirements
Board eligible or certified in AP / CP.
Facilities
The Duke University Health System is a tertiary health care system serving patients from several mid-Atlantic states. It currently is comprised of three hospitals with 1498 beds.
An affiliation with the Durham Veteran's Affairs Hospital (274 beds) provides additional training opportunities as does the Duke Cancer Institute.
Stipend
Commensurate with level of training.
Applications
Hematopathology Application DOC PDF
2022-2023 Hematopathology Fellowship: Filled
2023-2024 Hematopathology Fellowship: Filled
2024-2025 Hematopathology Fellowship: Filled
Email your application package to Program Coordinator Brittany Harris.
Ken H. Young, MD, PhD
Director of Hematopathology Fellowship
c/o Brittany Harris
Department of Pathology
DUMC 3712
Durham, NC 27710
Phone: 919-684-2070
Current Fellows
Faculty