The application cycle is July 1 - Jan. 15 each year. All materials must be submitted by Jan. 15th in order to be presented for review by the Admissions Committee. The current minimum shadowing requirement is set at two hours in surgical and autopsy pathology laboratories.
Applicants will undergo the application process through our applicant portal. Details about the program application process, as well as instructions pertinent to the application are provided in the portal.
A review committee consisting of the Program Director, staff pathologists' assistants, residents and other course coordinators will approve all final admissions decisions. Criteria for admission are weighted to academic preparation and performance
Prerequisites (updated 05-01-2023)
A baccalaureate degree in a biological or chemical science from an accredited institution which includes course work in general biology, general chemistry, organic chemistry, biochemistry, and college mathematics (at least to the level of algebra).
-or-
A baccalaureate degree in a non-science major to include the courses defined above and at least 24 credit hours in biological sciences and chemistry of such depth that the admissions committee determines that the candidate has the minimum scientific background to successfully begin the study of medical sciences.
Scores for the Graduate Record Examination taken within the past five years are required for all applicants regardless of prior education or experience.  The MCAT is not accepted in lieu of the GRE. Candidates who receive their baccalaureate degree from institutions outside the United States must submit a transcript evaluation showing degree equivalency and course by course subject matter description, and must submit either TOEFL or IELTS scores (no more than 2 years old) if English is not their native language.
A minimum of two hours shadowing in anatomic pathology, specifically surgical pathology (preferably in more than one setting), or surgical pathology laboratory work experience is required. Autopsy shadowing is also preferred, but not mandatory.
All candidates for the Master of Health Science degree and certification as Pathologists' Assistants must possess the physical and mental skills and abilities necessary to successfully complete the training program curriculum. To achieve the optimal educational experience, students are required to participate in all phases of the training program, in compliance with the following Technical Standards.
The study of medicine is not a pure intellectual exercise. Rather, a specific set of minimal physical, mental, emotional and social abilities are needed to be a successful student. Students must possess all of the abilities listed in the five Technical Standards categories below. The use of an intermediary that would, in effect, require a student to rely on someone else's power of observation and/or communication will not be permitted.
I. OBSERVATION
Visually observe materials presented in the learning environment including audiovisual presentations, written documents, microbiology cultures, microscopic examination of microorganisms, tissues and gross organs in the normal and pathologic state, and diagnostic images;
Observe specimens accurately and completely, both at a distance and directly. This requires functional vision, hearing, and sensation.
II. COMMUNICATION
Effectively speak, write, hear, read and use a keyboard utilizing the English language;
Perceive non-verbal communications, including facial expressions, body language, and affect;
Communicate effectively and sensitively with patients and their families via speech as well as reading/writing;
Communicate in oral and written form with the healthcare team in an effective, accurate, and efficient manner.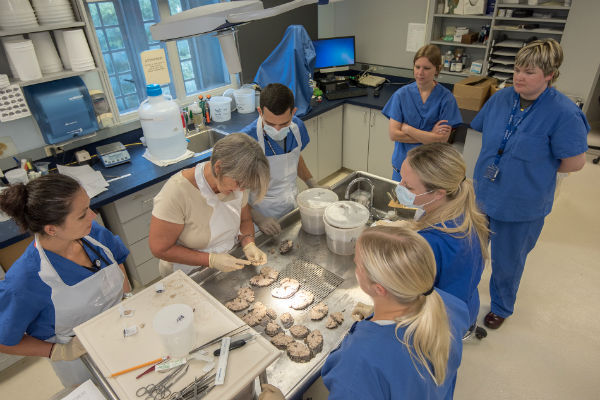 III. MOTOR
Elicit information from surgical specimens and postmortem examinations by palpation and use of dissection instruments;
Execute movements reasonably required to provide optimal gross analysis of surgical specimens and postmortem examinations. These skills require coordination of gross and fine motor movements, equilibrium, and sensation;
Manipulate equipment and instruments to perform basic dissection procedures as required to attain curricular goals. (e.g., scalpel, forceps, scissors, needles and syringes, large dissection knife, band saw, camera).
IV. INTELLECTUAL/CONCEPTUAL, INTEGRATIVE, AND QUANTITATIVE ABILITIES
Perform calculations necessary to solve quantitative problems as required by the curriculum;
Collect, organize, prioritize, analyze and assimilate large amounts of technically detailed and complex information in a timely fashion. This information will be presented in a variety of educational settings, including lectures, small group discussions, and individual clinical settings. The applicant should be able to analyze, integrate, and apply this information appropriately for problem solving and decision-making;
Apply knowledge and reasoning to solve problems as outlined by the curriculum;
Comprehend the three dimensional spatial relationships of structures;
Remain awake and alert.
V. BEHAVIORAL, EMOTIONAL AND SOCIAL ATTRIBUTES
Possess the emotional health to fully apply their intellectual skill, exercise good judgment, and to complete all responsibilities attendant to the diagnosis and care of surgical specimens and postmortem examinations;
Develop a mature, sensitive, and effective relationship with patients and colleagues;
Tolerate the physical, mental and emotional stress experienced during training and patient care;
Possess qualities of adaptability, flexibility, and the ability to function in the face of uncertainty;
Form a compassionate relationship with patients while maintaining appropriate boundaries for a professional relationship;
Behave in an ethical and moral manner consistent with professional values and standards;
Exhibit sufficient interpersonal skills, knowledge, and attitudes to interact positively and sensitively with people from all parts of society, ethnic backgrounds, and belief systems;
Cooperate with others and work collaboratively as a team.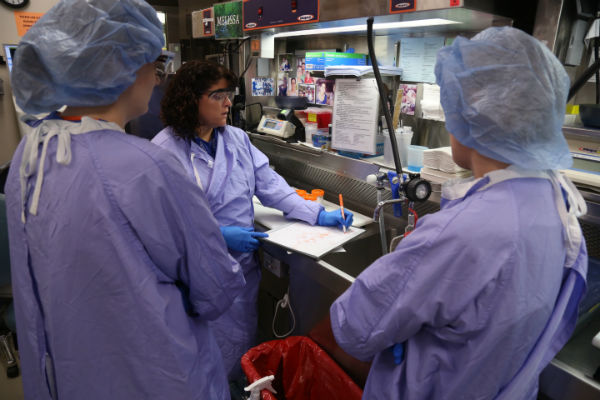 The faculty of the Duke University School of Medicine's Pathologists' Assistant Program recognizes its responsibility to present candidates for the MHS degree and certification that have the knowledge, attitudes, and skills to function in the specialized setting of anatomic pathology.
The Admissions Committee is responsible for adhering to these technical standards during the selection of students for the Pathologists' Assistant Program.
Tuition
Tuition for the entering class in 2023 is $30,317 per year with yearly technology, insurance and parking fees of approximately $8000. The entering tuition and technology fee costs are guaranteed for the second year and will not increase. Rent, food, books and other miscellaneous costs average approximately $27,000.
Financial Aid
Unsubsidized Stafford loans are available. Supplemental loans up to the program's recommended budget are available from private lenders.
For more detailed information, contact:
Office of Financial Aid
Duke University School of Medicine
Box 3067 Duke University Medical Center
Durham, NC 27710
 https://medschool.duke.edu/education/student-services/office-financial-aid
Class Size
The program accepts 6-8 students for each class.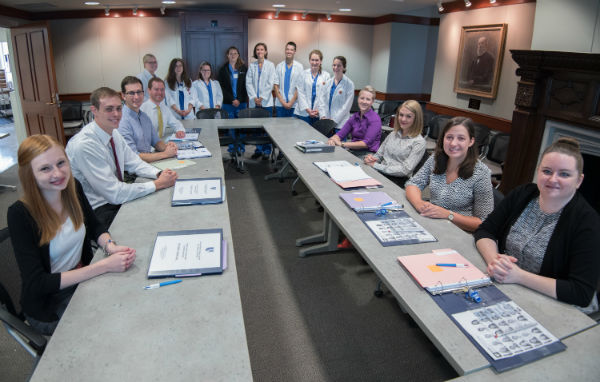 Duke University Nondiscrimination Statement
Duke University is committed to encouraging and sustaining a learning and work community that is free from prohibited discrimination and harassment. The university prohibits discrimination on the basis of race, color, religion, national origin, disability, veteran status, sexual orientation, gender identity, gender expression, sex, genetic information, or age in the administration of its educational policies, admission policies, financial aid, employment, or any other university program or activity. The university also makes good faith efforts to recruit, employ and promote qualified minorities, women, individuals with disabilities, and veterans. It admits qualified students to all the rights, privileges, programs, and activities generally accorded or made available to students. The university also does not tolerate harassment of any kind. Sexual harassment and sexual misconduct are forms of sex discrimination and prohibited by the university. Duke University has designated Dr. Benjamin D. Reese, Vice-President for Institutional Equity, as the individual responsible for the coordination and administration of its nondiscrimination and harassment policies. The Office for Institutional Equity is located in Smith Warehouse, 114 S. Buchanan Blvd., Bay 8, Durham, North Carolina 27708. Dr. Reese's telephone number is (919) 684-8222, and his email address is ben.reese@duke.edu Questions or comments about harassment or discrimination can be directed to the Office for Institutional Equity, (919) 684-8222. Additional information, including the complete text of the harassment policy and appropriate complaint procedures, may be found by contacting the Office for Institutional Equity, or visiting its website at: www.duke.edu/web/equity/ For further information on notice of nondiscrimination, you can contact the appropriate federal office by visiting the website: wdcrobcol01.ed.gov/CFAPPS/OCR/contactus.cfm for the address and phone number of the office that serves your area, or call 1 (800) 421-3481.
Annual Security and Fire Safety Reports
The Annual Security Report and Annual Fire Safety Report include institutional policies concerning campus safety and security, as well as statistics for the previous three years concerning reported crimes that occurred on Duke University property and on public property adjacent to campus and fires that have occurred in residence halls. A copy of these Reports can be obtained by contacting the Duke Police Department at 919-684-4602 or writing to 502 Oregon Street, Durham, N.C., 27708, or by accessing: https://police.duke.edu/news-stats/clery