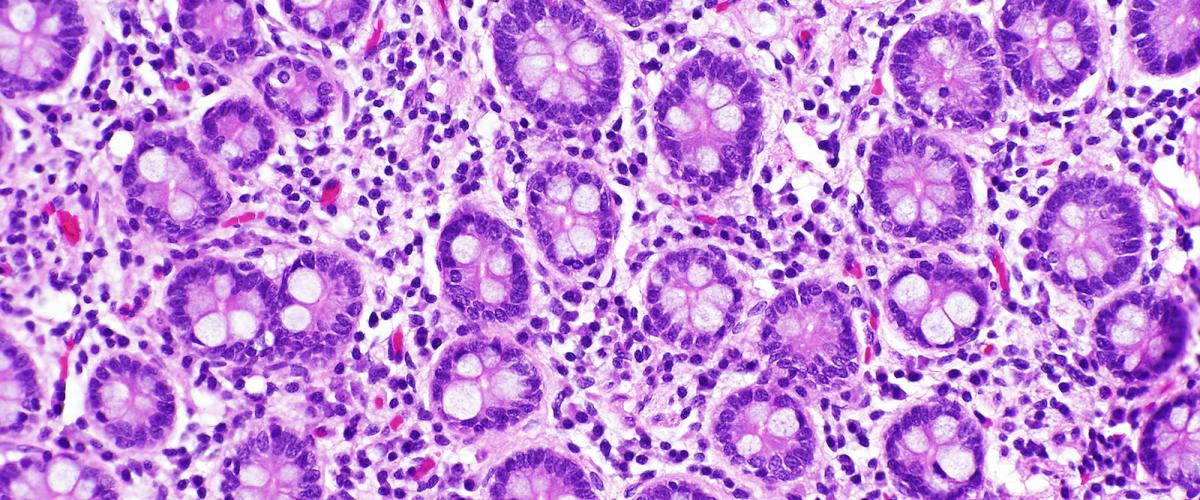 We in the Department of Pathology believe that pathology is the essential foundation for all physicians: there isn't a single specialty that cannot benefit from a comprehensive background in pathophysiology.
Therefore, we are delighted by our central role in helping Duke medical students develop into the outstanding physicians they become.
Pathology instruction at Duke University Medical School takes place in the context of the Pathology Small Group: the medical school class and pathologist assistant students are divided into five groups, each of which is headed by an attending pathologist and a pathology resident. Classes meet for two hours twice each week for a total of 19 weeks of general pathology and organ-based topics.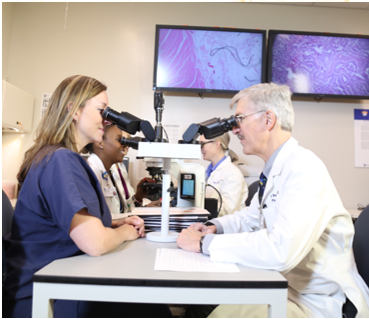 In each class, students examine and discuss a series of gross organ specimens with pathologic findings relevant to that week's topic. This extraordinary collection has grown over the decades to include rare entities that are seldom seen outside of a major medical institution such as Duke University. Short videos that highlight the salient features of each pathologic specimen are available for students to review after class.
Also in class, students work through a variety of web-based clinical vignettes. Each case has a USMLE-style vignette and includes relevant radiologic, gross and microscopic images for evaluation. Virtual microscopic images are used to reinforce and review normal histology, as well as to aid students to develop a differential diagnosis. Issues related to access to care, appropriate screening tests and treatment and prognosis are also discussed.
Additional content is provided in a weekly one-hour live lecture that supplements the lectures available on line. The material is closely linked to the recommended textbook, Robbins Basic Pathology, and is delivered by attending pathologists, enabling students to ask questions and clarify challenging concepts.
The Department of Pathology enthusiastically embraces opportunities to connect with our future clinical colleagues. In order to optimize the interface between our department and the clinicians who depend on us, we host several lunches that provide orientation to the department, information about how surgical and laboratory specimens are processed and guidance regarding the tests and studies we perform.
The Department offers a Post-Sophomore Fellowship for medical students interested in pursuing a total immersion year of pathology education similar to that of a PGY-1 pathology resident.  Please follow the Pathology Post-Sophomore Fellowship link below for information.
Pathology Post-Sophomore Fellowship
Pathology and Virtual Microscopy Resources (Duke University Medical School)