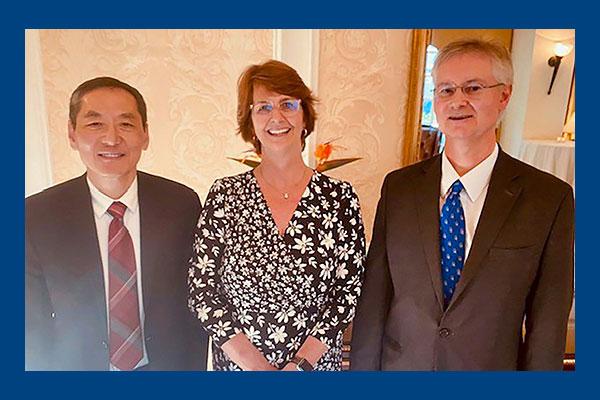 We enjoyed coming together for our Residents and Fellows Graduation and Awards Ceremony at Washington Duke Hotel on June 2nd. Chair Jiaoti Huang, MD, PhD, and Residency Program Director Thomas J. Cummings, MD, opened with a warm welcome and introduced our keynote speaker, Duke graduate Alice Clark Coogan, MD, chair of Pathology, Microbiology and Immunology at Vanderbilt University Medical Center. (Pictured left to right: Drs. Huang, Coogan, Cummings.)
Coogan provided advice to the graduating class about getting prepared for life and working in labs, and urged them to continue educational training throughout their careers. Cummings praised the graduates' outstanding work and delivered an enthusiastic roast of Huang.
Cummings invited various of the residents' mentors to share about their students, which was followed by a farewell presentation to fellows by various Fellowship Directors. The graduating class presented a slide show of photos highlighting their time at Duke, and closed out the evening by giving out superlatives to the faculty.
Special recognition was given to the administrative team who support the programs and organized the graduation event: Graduate Medical Education (GME) Program Coordinator Jawanna Bell, CEAP; Residency Program Staff Specialist Ginger Griffin; and Fellowship Program Coordinator Brittany Harris.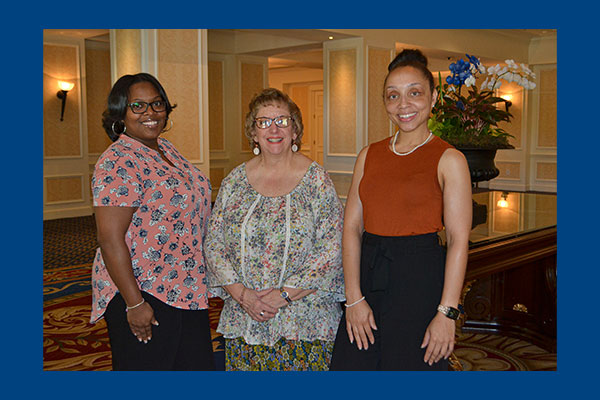 Cummings presented the following awards:
Congratulations to the entire graduating class, which includes the following doctors: