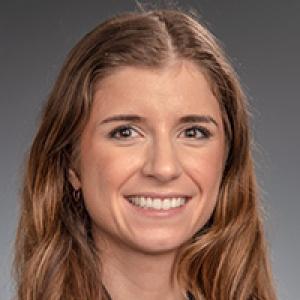 University of North Carolina School of Medicine
Contact Information:
Hometown: Raleigh, NC
College: Duke University
Medical school: University of North Carolina School of Medicine
Fellowship plans: To be determined
Career goals: Continuing to stay involved in academic pathology by teaching, mentoring and attending local and national conferences.
Hobbies and interests: Going to the beach, seafood, walks with my cockapoo, piano, painting, and tennis. I am fortunate that my family lives closeby, so I enjoy going home to see them as often as I can. I really enjoy checking out local art galleries or browsing/exploring new and upcoming artists on social media especially if they are local.
Why Duke: The Duke Pathology Residency Program has a great variety and volume of specimens, and the residents and faculty are so welcoming, knowledgeable, and most of all friendly. There are boundless opportunities for research, involvement in teaching and a strong focus on education. Additionally there is a great balance of autonomy and support. I felt incredibly happy and comfortable at Duke on interview day, and knew this was the place for me!
Why Durham: Durham has so much to offer in terms of good food, culture, outdoor activities, music and art. It's very relaxing to run in the Duke Forest, take a stroll through the Duke Gardens, or hike around the Eno River.  I attended Duke for my undergraduate studies, and had an amazing time both within the academic environment as well as surrounding city. Durham is an incredibly fun and affordable city, and you can always find something to do when you have a day off.