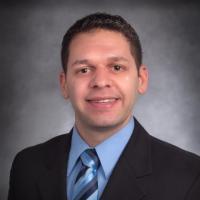 Christopher J. Pirozzi, PhD, has been promoted from Medical Instructor to Assistant Professor. Pirozzi's work thus far has been dedicated to studying brain tumors, particularly gliomas. During his research career, he has focused on identifying the common mutations present in gliomas and how these mutations correlate with diagnoses and prognoses. He was involved in several publications that identified and stratified brain tumor patients based on their mutation spectrum. Pirozzi used these mutations as a foundation for animal modeling, leading to genetically faithful and biologically relevant systems. He applied these systems to basic research to understand the pathogenic nature of these mutations, as well to as pre-clinical and translational research in order to understand how best to treat these tumors.
Pirozzi's work in animal modeling and understanding mutant IDH1-mediated gliomagenesis has been recognized broadly. He was recognized at Duke University School of Medicine's Clinical Research Day; received the Robert and Barbara Bell Basic Science Cancer Research Award; was recognized at the Fifth Annual DCI Scientific Retreat; and was named as a Hope Funds for Cancer Research Postdoctoral Fellow.
He is currently working on using mutations identified in the human genetic screens for immunotherapeutic purposes, and has generated a series of orthotopic intracranial injection-based immune-competent animal models. He is actively investigating the impact the mutations have on the tumor-immune microenvironment, and whether the tumor-immune microenvironment can be manipulated to promote an anti-tumor response. His most recently funded Department of Defense Idea Award seeks to understand the impact mutant IDH1 on the Th17 T cell lineage and whether this can be exploited for therapeutic purposes. 
His active lines of investigation include understanding the tumor-immune microenvironment and whether it can be manipulated to improve therapeutics or promote an anti-tumor immune response; and identifying of tumor-specific therapies that will avoid collateral damage to surrounding tissues.  Additionally, Pirozzi hopes to use his foundation in genetics, animal modeling, and the tumor-immune microenvironment to expand his research program into other cancers.
Background
Pirozzi was born in Brooklyn, NY, and received his B.A. from Rutgers University (Genetics and Philosophy, 2007).  After an internship at the Monash Immunology and Stem Cell Laboratories in Melbourne, Australia, Pirozzi worked at Memorial Sloan Kettering Cancer Center, where he focused on the directed differentiation of embryonic stem cells and their use in treating Parkinson's disease (2007-2009).  He initially came to Duke through the Developmental and Stem Cell Biology Program, and joined the lab led by Hai Yan, MD, PhD. (2009-2014) He continued his research with Yan and was the recipient of the Robert and Barbara Bell Basic Science Cancer Research award, and a Hope Funds for Cancer Research Postdoctoral Fellowship. (2015-2018) During that time, he also was an adjunct instructor teaching Pathophysiology at Durham Technical Community College. Following his promotion to Medical Instructor in 2018, Pirozzi received a Department of Defense Idea Award focused on the effects of the IDH1 mutation on the Th17 lineage of T cells.