The Gastrointestinal Pathology Service offers broad experience in adult and pediatric gastrointestinal and pancreatic diseases.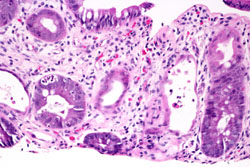 Our team of Gastrointestinal Pathologists at Duke is dedicated to providing state of the art diagnostic services related to neoplastic and non-neoplastic disorders of the gastrointestinal tract and pancreaticobiliary system.
Faculty
Chanjuan Shi, MD, PhD, is the section head of gastrointestinal (GI) pathology. Her particular areas of interest are GI neuroendocrine tumors and pancreaticobiliary pathology. Her research interests include 1) Pathobiology of GI and pancreatic neuroendocrine tumors and 2) Identification of diagnostic, prognostic and therapeutic biomarkers for GI cancers.