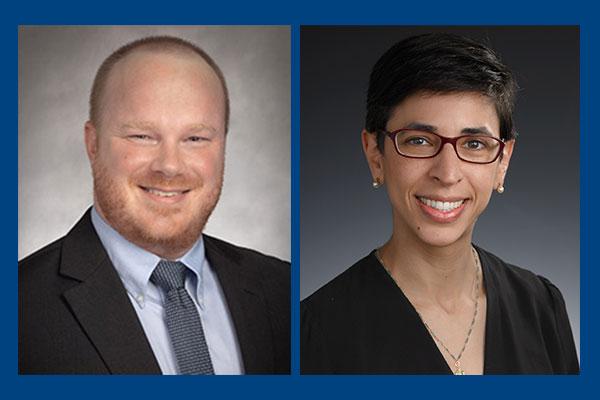 On July 11th, the American Society for Clinical Pathology (ASCP) named Eric D. Carlsen, MD, PhD, FASCP, and Giselle Y. López, MD, PhD, FASCP, to its prestigious ASCP 2023 40 Under Forty list. The list includes 40 high-achieving pathologists, pathology residents, and medical laboratory professionals under age 40 who are being honored for professional excellence.
ASCP's 40 Under Forty program shines the spotlight on 40 highly accomplished pathologists, pathology residents, and laboratory professionals under age 40 who have made significant contributions to the profession and stand out as the future of laboratory leadership. The 40 Under Forty recognition has made a powerful impact on all of its honorees, ranging from pronounced recognition within their organization to exciting media attention.
Carlsen joined the Duke Department of Pathology in July 2021 as an assistant professor in the Division of Hematopathology, where he also helps direct the laboratories.  He earned his MD and PhD degrees from the University of Texas Medical Branch in Galveston, where his research focused on host-pathogen interactions in New World leishmaniasis. His AP/CP pathology residency was at the University of Pittsburgh Medical Center, where he also completed a fellowship in hematopathology. 
López has been an integral member of Duke Pathology for five years. She studied for her MD and PhD degrees at Duke from 2005-2014, and returned in December 2018 as an assistant professor in Pathology. She is active in building pathways into pathology for pre-med students from diverse backgrounds and has developed a virtual pathology shadowing program.
She recently led the Neuropathology section of American Society for Clinical Pathology's (ASCP) Pathology Update course in June 2023. In August 2022, she was awarded a Clinical Scientist Development Award from the Doris Duke Charitable Foundation to support her project, "Genomic and Spatial Expression Analysis of Oligodendroglioma to Identify Novel Therapeutic and Prognostic Targets."  
The 40 honorees will each have the opportunity to share their knowledge about topics pertinent to pathology and laboratory medicine. You can follow them on Twitter, Facebook and Instagram with the hashtag #ASCP40UnderForty2023.
In a few weeks, ASCP will select the top five individuals from the 40 honorees, who will each receive free registration to attend ASCP 2023 Annual Meeting in Long Beach, CA. where they will be formally recognized. Winners will be chosen through a combination of public voting and committee selection.
In addition, the winners will receive free enrollment in Lab Management University, University of Pathology Informatics or Leadership Institute. These certificate programs have been developed by ASCP in conjunction with ASCP partner organizations, including the American Pathology Foundation and the Association for Pathology Informatics.
"ASCP's 40 Under Forty program is an opportunity to recognize the next generation of pathology and medical laboratory leaders from around the globe," said ASCP President Marsha Kinney, MD, MASCP. "By providing support and encouragement to these young professionals, we aim to strengthen the medical laboratory workforce during this period of historic change in healthcare delivery. We are very fortunate to have such a talented group of individuals – they will help to shape the future of patient care." 
The 2023 ASCP 40 Under Forty applicants were asked to submit a resume and a personal statement on how they see themselves as an innovator in health care, or how they are contributing to leading innovations within the profession. The selection committee included two individuals each from the ASCP Pathology Council, Resident Council, and Council of Laboratory Professionals, as well as past 40 Under Forty honorees.
About ASCP
Founded in 1922 in Chicago, ASCP is a medical professional society with more than 100,000 member board-certified anatomic and clinical pathologists, pathology residents and fellows, laboratory professionals, and students. ASCP provides excellence in education, certification, and advocacy on behalf of patients, pathologists, and laboratory professionals. Click here to learn more.