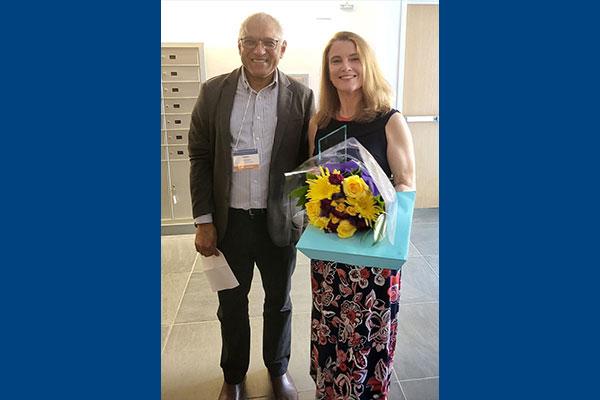 On Thurs., April 20th, PhD Graduate Program members gathered in MSRB001 to celebrate Margaret "Meg" J. Atchison's career and contributions to the program, and recognized several graduating students: Chunjing "Evangeline" Bao, William Butler, Amelia Schirmer, and Steven Shen. Soman Abraham, PhD, and Herman Staats, PhD, led the event and presented Atchison and the graduates with gifts.
A special thanks was given to each of the graduating student's mentor:
Atchison joined the Department of Pathology in May of 2016 as Student Services Officer, Assistant to Dr. Soman Abraham, and Director of Graduate Studies Assistant (DGSA). She was instrumental in building a community amongst the students who work in diverse labs and within the department between the research and clinical faculty. Pathology Department Chair Jiaoti Huang, MD, PhD, had secured some funds from the Dean which enabled her to plan activities and workshops for the students, and an all-department symposium which brought the whole department together for scientific talks and socializing for the first time. These initiatives continue to this day.
"Meg approached her work with high energy, enthusiasm, and dedication," said Director of Graduate Studies Soman Abraham, PhD. "The graduate students and faculty greatly appreciated the many thoughtful and creative ways that she utilized to build community within the Pathology Graduate Program. We will miss her vibrant and nurturing presence with us but wish her well in the next phase of her career."
Atchison is now working with the Provost and the Vice Provost for Interdisciplinary Studies and is still involved in graduate education, but now for all of the graduate students at Duke through coordination of Together Duke initiatives such as Provost's Internships and Summer Course Development Grants, as well as other student and faculty interactive programs such as Graduate Summer Academy, Nannerl Keohane Distinguished Visiting Professorship (a joint venture with UNC), Thomas Langford Lectureship Award, Bass Connections, and more. For more about the OVPIS, Interdisciplinary Studies - Duke Interdisciplinary Studies.