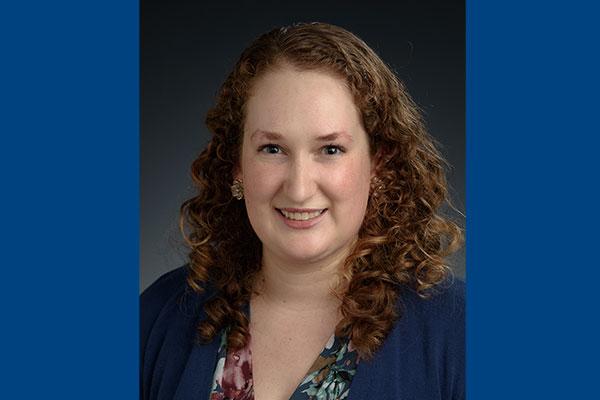 We're celebrating National Pathologists' Assistant (PA) Day on April 14, 2023,  by shining a spotlight on Staff Pathologists' Assistant and Preceptor Allison Topper, MHS, PA(ASCP)CM, who serves as course coordinator and clinical liaison in Surgical Pathology. Topper started her career at Duke as a Pathologists' Assistant student, graduating from the program in July 2017.
"I enjoyed my time as a PA student at Duke and knew that I wanted to work in a fast-paced academic environment and have opportunities to teach, so I was excited when a position opened in the surgical pathology lab right before graduation and I decided to stay here as a staff PA," she shared.
She has served as lead PA for about a year and a half. "In this position, I still gross specimens, work on frozen sections, and teach students and residents, but also organize our schedule with the trainees in the lab, work on process/quality improvement projects, and have started to oversee our grossing tech training," she said. "I also serve as a liaison with both the Pathologists' Assistant Program and pathology residents in the Duke Surgical Pathology lab."
"I enjoy working as a pathologists' assistant because every day is different. I'm constantly amazed at the complexity of the human body and how disease can present. While I don't directly interact with patients, I know that the work I do has a direct impact on the final diagnosis that is made and ultimately the treatment that the patient receives.
"Working at Duke, I get to be involved in the hands-on training of both pathologists' assistant students and pathology residents in the surgical pathology lab. The time spent teaching challenges me to hone my grossing skills and pathology knowledge and stay current in the field. Watching students progress from beginners without any grossing experience to capable pathologists' assistants ready to enter the profession is very rewarding!"
In her free time, Topper enjoys cooking, baking, and reading. She has two cats and travels home to Pennsylvania a few times each year to visit family and friends. She plays the oboe and recently joined the Durham Community Concert Band. "After not playing much since college, this has been a new challenge, but also a great creative outlet and stress-reliever," she said.
Pathologists' assistants are a highly trained allied health professional who provides various services under the direction and supervision of a pathologist. PAs interact with pathologists in a manner similar to physician's assistants in surgical and medical practice, carrying out their duties under the direction of their physicians. Learn more about the program's history here.
Duke's PA Program consists of two calendar years of training. There are three semesters during the academic year, including summer practical rotations. During the first year, Fall and Spring academic semesters include medical school level courses in cell and molecular biology, biochemistry, genetics, gross and microscopic human anatomy, human physiology, microbiology, immunology, pharmacology and pathology. Learn more about our curriculum here