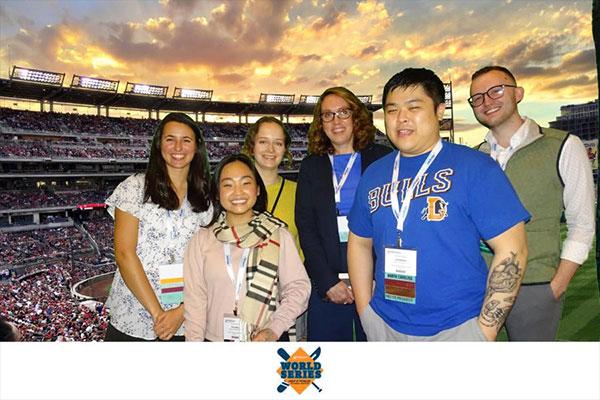 From Sept 24-28, 2023, various members of our Pathologists' Assistant Program attended the 48th annual American Association of Pathologists' Assistants (AAPA) Fall Conference in Baltimore, MD. They attended lectures, presented posters, and networked with other Pathologists' Assistants from across the United States and Canada. Duke's program was strongly represented with three poster presentations and two Duke Pathologists' Assistant Program alumni presenting at two different student sessions.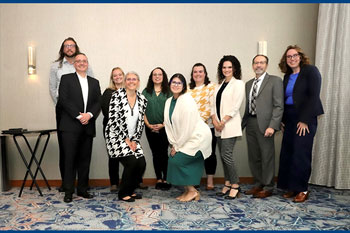 Michelle Johnson PA(ASCP), director of the Pathologists' Assistant Program, attended the directors meeting with the AAPA Board of Trustees, where she was able to connect with the other program directors from the 16 different Pathologists' Assistant training programs. She also volunteered as the official AAPA photographer for the entire conference and captured numerous photos of lectures, poster presentations, and social events. 

On Sunday evening at the Welcome Party, current Duke Pathologists' Assistant Program students connected with program alumni. It was also a great time of networking and meeting Pathologists' Assistants from other institutions.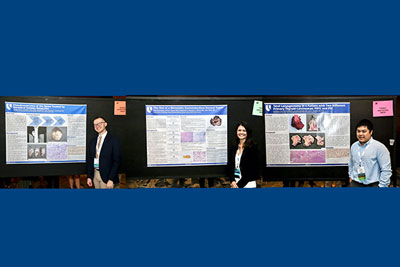 During the daily poster sessions, two second-year Pathologists' Assistant students and one staff PA presented their fabulous Surgical Pathology cases.  Student Hunter Pyron presented "Chondrosarcoma of the Spine Treated by Vertebral Column Resection." Pyron was mentored by Jonathan Chen, PA(ASCP), and by Thomas J. Cummings, MD.  Student Ada Golowiejko presented "The Gist of a Metastatic Gastrointestinal Stromal Tumor." Allison Topper, PA(ASCP), and Shannon McCall, MD, mentored Golowiejko.  Staff Pathologists' Assistants Jonathan Chen PA(ASCP) presented "Total Laryngectomy in a Patient with Two Different Primary Thyroid Carcinomas: PDTC and PTC", and worked with PGY3 resident Jusmita Saifullan, MD.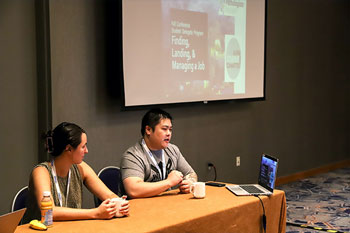 Jonathan Chen, PA(ASCP), teamed up with fellow Duke Pathologists' Assistant Program alumna Ann Marie Scazzero PA(ASCP), currently a PA at the Mayo Clinic, to give two presentations for the student sessions: "Resume and Cover Letter Workshop;" and "Finding, Landing, and Managing a Job." They mentored students from all 16 Pathologists' Assistant Programs on how to find a job upon graduation and about how to prepare for an interview. They also reviewed cover letters and resumes, and discussed the various factors that go into choosing a position at an institution.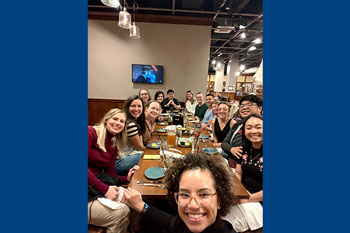 ​​​​
On Tuesday evening, Johnson and Chen hosted an inaugural Fall Conference Duke Alumni Dinner at Phillips Seafood, a popular local seafood restaurant right on the Inner Harbor. The 15 attendees included current Duke Pathologists' Assistant students and Duke alumni. It was a great evening of networking and sharing stories of how the Program has changed and developed over the years. 
On Wednesday evening, the AAPA hosted a volunteer recognition event at the baseball stadium Camden Yards to watch the Baltimore Orioles play the Washington Nationals.  Many thanks to our wonderful Duke alumni for volunteering their time and energy to assist the AAPA.  Johnson volunteered as the official conference photographer. Scazzero volunteers on the Membership Committee and Education (peer-review) Committee, and Chen volunteers on the Education (peer-review) Committee and Grossing-Guidelines Committee.