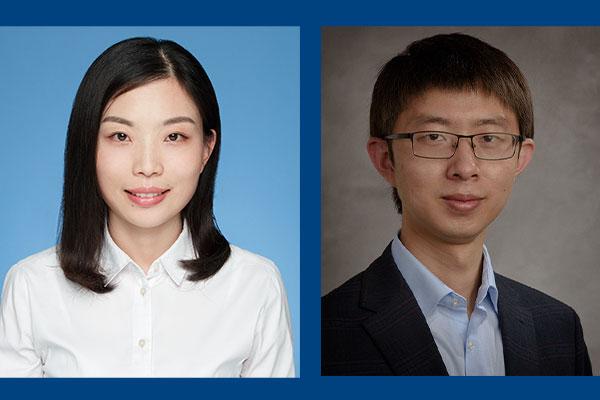 Zhifen Cui, PhD, a research scientist, and Furong Huang, PhD, a postdoctoral fellow in laboratory of Qianben Wang, PhD, have been honored with the Society for Basic Urological Research (SBUR) Trainee Travel Award.
This distinction comes with a $500 award to support their participation at the 2023 SBUR Annual Meeting, in San Antonio, TX, in Nov. 2023. Both esteemed recipients will be presented with a certificate and monetary award during the event. Additionally, Huang's abstract, titled "Targeted Engineering mRNA 3′UTR Length Enhances Immunotherapy Response in Prostate Cancer," was selected for an oral presentation, showcasing the importance of his research.
Zhifen received her Bachelor of Science degree from China University of Petroleum (East China); a Master of Science (MS) degree from Shanghai Normal University (Joint training with Shanghai Institute of Applied Physics); and PhD in Inorganic Chemistry from University of the Chinese Academy of Sciences in 2018. Her current research is to develop oncogenic transcription factor-targeting nanotherapy in lethal prostate cancer.
Furong received his Bachelor of Medicine degree from Tianjian Medical University and his PhD degree from National Cancer Center/Cancer Hospital, China Academy of Medical Sciences and Peking Union Medical College in 2020. His current research focuses on studying the transcriptional and post-transcriptional mechanisms underlying the hormone-dependent cancers.