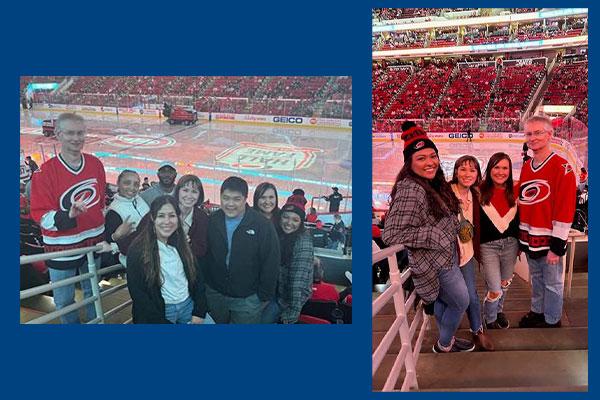 This GME Week, Residency Program Director Thomas J. Cummings, MD, has been celebrating our phenomenal residents and fellows. On Feb. 16th, a group of Pathology residents and fellows stormed the Carolina Hurricanes game as they defeated the Montreal Canadiens 6-2
Two nights later, Cummings and Monica Abdelmalak, MD, PGY-4, represented our department at the epic NHL Outdoor Classic, where they braved the cold and the crowd of almost 60,000 at Carter Finley stadium. They watched the Canes deliver a 4-1 victory over the Washington Capitals.
We're so grateful to have each of our residents and fellows, and for the tireless leadership that Cummings, Associate Program Directors Carolyn Glass, MD, PhD, and Anand Lagoo, MD, PhD; our Fellowship Program Directors; and Residency Program Coordinator Jawanna Bell provide each and every day.