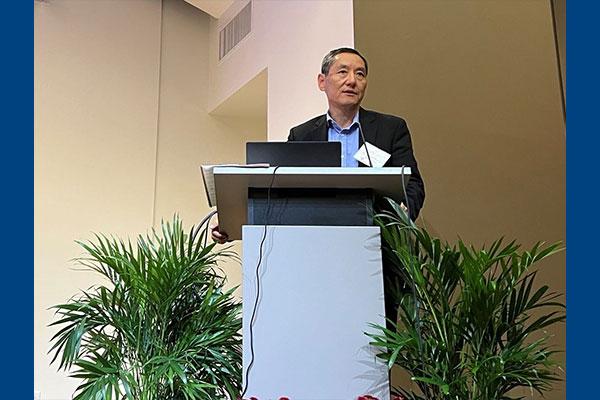 On Sept. 18th, 2023, Jiaoti Huang, MD, PhD, delivered a lecture titled "Cellular Heterogeneity of Prostate Cancer Contributes to Therapy Failure and Disease Resistance" at the 13th National Symposium on Prostate Cancer in Atlanta, Georgia.
The symposium, hosted by Clark Atlanta University's Center for Cancer Research and Therapeutic Development (CCRTD), featured leading prostate cancer researchers from some of the top national and international institutions.  Huang discussed the research in his lab over the past twenty years, which has led to the discovery of multiple therapeutic targets in advanced prostate cancer, resulting in various clinical trials.
The half-day symposium included presentations, poster sessions, and workshop discussions. Attendees learned about the most recent progress in basic, translational, and clinical studies on hormone-refractory prostate cancer.
According to CCRTD faculty member and researcher Daqing Wu, PhD, "The National Symposium on Prostate Cancer at the CCRTD is the only one of its kind in North America. Since April 2005, it has been a catalyst in promoting scientific innovation and advancing research and community efforts to address barriers in the diagnosis and treatment of prostate cancer, a lethal disease that disproportionately affects African Americans."
Huang is the Pathology Department chair and a professor of Pathology. He leads a prostate cancer research lab that has been continuously funded over the past twenty years.