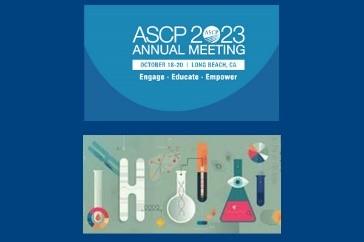 Members of Duke Pathology and Duke University Health System (DUHS) Clinical Laboratories  presented at the American Society for Clinical Pathology (ASCP) Annual Meeting in Long Beach, CA, on Fri. Oct. 20th, and at the "Imagine 2023 and Beyond" symposium on Sat., Oct. 21st.  
The ASCP Annual Meeting brought together the pathology and laboratory medicine community, providing them with an opportunity to learn, share ideas with colleagues, and gain insights on new research findings.
Three Duke faculty members presented there: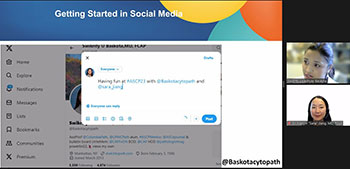 Imagine 2023 and Beyond was organized by a steering committee of members from North Carolina's four academic Pathology and Laboratory Medicine Departments (Duke, ECU, UNC, and Wake Forest) and the South Piedmont Area Health Education Center (AHEC). Hosted by Atrium Health, it provided attendees with exposure to a variety of topics focused on anatomic pathology, clinical pathology and practice management, featuring pathologists and laboratory professionals from across the state. Formats included traditional lectures by expert faculty, audience participation, and panel discussions. It offered a multi-track curriculum with simultaneous sessions on topics addressing knowledge and/or practice gaps, as well as emerging trends in the field.
Several Duke Pathology faculty members presented there, as well as Laurelin Younger, education and training coordinator with Duke University Health System (DUHS) Clinical Laboratories: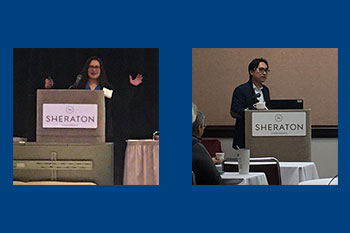 In his talks, Wang introduced the audience to current imaging biomarkers of Alzheimer's disease (AD), such as amyloid positron emission tomography (PET), tau PET, as well as fluid biomarkers, such as cerebrospinal fluid (CSF) measurements of amyloid beta-42, phopho-tau181, and total tau. He provided examples of how to classify patients into diagnostic categories based on their biomarker profile. Wang also discussed recent developments in blood-based biomarkers and the ongoing search for more sensitive biomarkers for early detection of AD. Read more about Wang's Lab and research here.
AD is a clinical pathological entity characterized by clinical symptoms of amnestic dementia and confirmed at autopsy by the presence of amyloid plaques and neurofibrillary tangles. However, recent development of disease-modifying therapies underscores the importance of identifying patients with plaques and tangles at early stages of Alzheimer's disease before symptoms become irreversible.