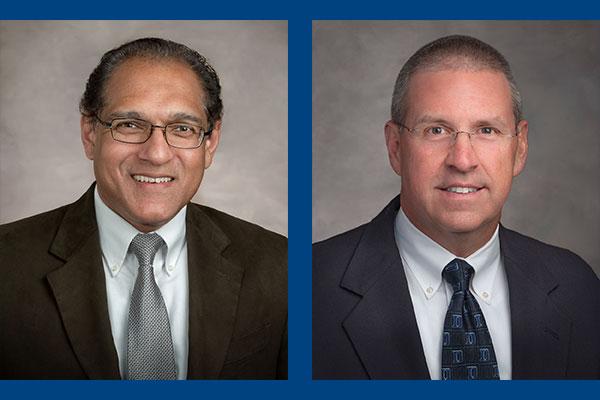 The National Institute of Allergy, Immunology, and Infectious Diseases has awarded Soman Abraham, PhD, and Herman Staats, PhD, a two-year R21 grant titled "A Novel Vaccination Strategy to Curb recUTIs"
Urinary tract infections (UTIs) represent the second most common bacterial infections in humans, and are remarkable because of their high recurrence rate. In many cases, a UTI recurs within six months of the first infection. Current vaccine strategies comprising intramuscular injections to combat UTIs have had limited effects in reducing these recurrences.
However, by employing mouse models of UTIs the Abraham lab recently reported that specifically immunizing the bladder along with a Th1-skewing adjuvant - an ingredient used in some vaccines to help create a stronger immune response-was a highly effective strategy in conferring protection against recurrent UTIs. Read the paper titled "Local Induction of Bladder Th1 Responses to Combat Urinary Tract Infections," published on the NIH National Library of Medicine, here.
Over the years, the Staats Lab has shown that administrating various vaccine formulations at mucosal surfaces, such as  the bladder, is a powerful approach for building long lasting, protective immunity. This NIH award is aimed at generating critical preliminary data necessary to support a first clinical trial of this novel UTI vaccination strategy in humans.
Abraham was recently a guest of the Institute for Stem Cell Science and Regenerative Medicine (InStem), in Bengaluru, India. During his visit, he gave a talk to faculty and students on recurrent UTIs and the limitations of bladder epithelial recovery process following each infection. Abraham's visit resulted in the initiation of a collaboration on the molecular aspects and mechanisms of bladder epithelial recovery between his laboratory and InStem faculty members.
The Abraham Lab has been working on developing a UTI vaccine for many years. Abraham was featured in a May 18, 2021 live interview on WTVD-TV, talking about the urinary tract infection (UTI) vaccine that his team has developed. Read more about his UTI vaccine strategies and research here.