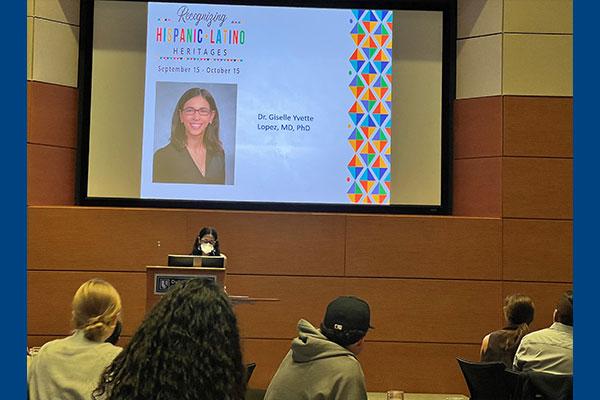 Giselle Y. López, MD, PhD, was a keynote speaker, along with Gabriela Maradiaga Panayotti, MD, for the inaugural Duke Latino Medical Student Association (LMSA) Hispanic Heritage Month Gala on Sept. 15th at Duke's Trent Semans Center for Health Education. She has Puerto Rican and Cuban heritage, and spoke about her experiences as a Latina medical professional, emphasizing the importance of community in Latin American cultures.
"I find joy in seeing the Duke LMSA grow from the small organization it was when I was finishing medical school, into the vibrant community that exists today," said López.
López studied for her MD and PhD degrees at Duke from 2005-2014, and returned to Duke in December 2018 as an Assistant Professor in Pathology.
In her presentation, López shared about her sometimes-isolating experience growing up in rural Maryland, where it often felt like her family was the only one who spoke Spanish. At school, she was the only Latina in her class. However, they had a small, tightly knit community of fellow Puerto Ricans whom they could rely on for support.
"Having a community like that has been what kept me going when I felt like I was the only one" said López.
When she first arrived at Duke in 2005, López joined the Student National Medical Association, driven by a desire to build community and find ways to give back. She had an amazing experience with SNMA, which welcomed her with open arms.
"They worked to include Latinx populations as well as Black populations in their discussion about disparities in health outcomes," she recalled. "And lest there be any doubts about their genuine efforts towards broad inclusivity, that first year, they brought in the highest-ranking Latino in the MD state government as their keynote speaker for their MLK banquet. That year, I learned that my community can be tight, but it can also be broad, and that we define our communities," she said.
Throughout her medical school career, López found she could give back to her community simply by being present as herself. When she would introduce herself to a Latinx patient by pronouncing her name correctly, she would see an immediate look of recognition and feeling of trust.
"Just 'being present' as myself, I was able to get clinical histories much deeper than what the attending would get," she said.  "And I could have discussions about treatment plans, and barriers, and what my patients actually needed, because they trusted me. They are my community too," she said.
In her final year of medical school, she was faced with a decision of which field to go into and almost didn't pick pathology. She worried that, by choosing a career with limited direct patient interaction, she wouldn't be able to use her Spanish, which could mean turning her back on her community and those who needed her support. While attending the National Hispanic Medical Association Annual Conference, she met a colleague who encouraged her to follow her passion for Pathology and assured her that Latinas are needed in all fields of medicine, and could make a difference in whatever field they chose.
"Looking back now, I realize that the person I spoke to was absolutely right," affirmed López. "We are needed, and whatever field we go into, we will find ways to give back to our community, and to build community. Whether we go into family medicine, or orthopedic surgery, or dermatology, or psychiatry, or any other field of medicine, we are needed, and our communities are waiting and ready for us to step up," she said.
During her first year of residency, she was one of few Latinas in the pathology program, which felt isolating. So, she decided to create a community, starting by joining a speed mentoring session matching up Latinx medical students with Latinx residents, fellows and attendings. She met the event organizer, who hosted regular minority women in medicine dinners.
López felt she had found that community she had been searching for. Through that connection, she found the Graduate Medical Education (GME) Diversity Advisory Group, and ran mentoring sessions for residents and fellows.
"Residency was one of the hardest things I have ever done," said López. "But having that community, and being able to give back to that community, is what one of the things that kept me going during one of the most challenging periods of my life. Now, I felt like I could give back," she realized.
More recently, during the COVID pandemic, clinical shadowing opportunities for pre-medical students were shut down, hurting their ability to be competitive for medical school. López knew it was going to be even harder for those without connections, including Black and Latinx pre-medical students, to get that needed shadowing experience. So, she worked with the Pathology Department, and built a virtual shadowing experience. As a result, López enabled students from anywhere in the United States to do virtual rotations, shadowing in pathology. She advertised the program to students she met at Underrepresented in Medicine (URiM) pre-health fairs.
"I realized that when the need was greatest, I could make a difference," she said. She is committed to continuing to build community and serve others in her work as a pathologist, mentor, and faculty member.
For more information about Duke LMSA, click here. To learn more about the national LMSA organization, click here.