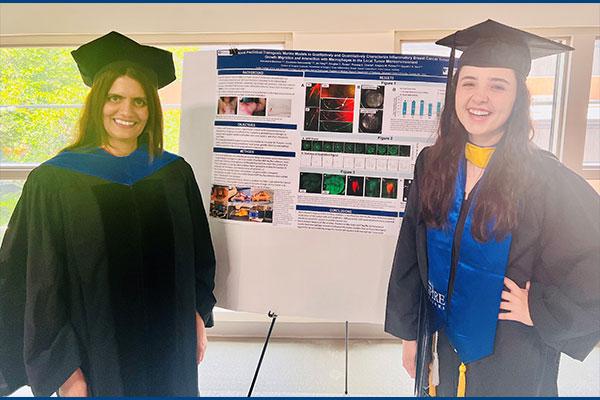 Alexandra Bennion was awarded the 2023 Biology Faculty Award at Duke University's commencement ceremony on May 13th. The award recognizes her outstanding intellectual achievements and excellence during the three years of independent study research that she conducted as part of Pathology Undergraduate Medical Education in the Cell Death Laboratory of Gayathri Devi, PhD.
"From my first day at Duke, all of the wonderful professors and mentors in the Department of Biology have made me feel encouraged, inspired, and supported. I am incredibly grateful to the Biology faculty who have fostered my growth as a student," said Bennion. "I'm particularly grateful to Dr. Gayathri Devi, who has been a remarkable mentor and supported my passion for research. Under her mentorship, I've grown not only as a scientist, but also as a person."
Bennion's research concluded in a senior thesis titled "Visualizing and quantifying tumor-macrophage interactions: Real-time imaging of inflammatory breast cancer and macrophages in the local tumor microenvironment," which was also awarded a high distinction in biology 
The research team she worked with generated a model that can be applied to treating inflammatory breast cancer (IBC), a highly lethal and hard-to-detect variant. The model simulates IBC characteristics using a murine model with red fluorescent lymphatics that can be widely applied to various cancers exhibiting lymphovascular invasion (LVI), the presence of tumor cells in lymphovasular spaces that is a clinicopathological hallmark of IBC, and is associated with an increase risk of metastasis.
Learn more about this model in a recently published study related this work that Bennion co-authored titled "A novel preclinical model to simulate the microenvironment of inflammatory breast cancer." Read it here. 
The work came out of a collaboration between the Devi Lab and lab of Gregory Palmer, PhD. It started with Duke Cancer Institute seed funding and has received funding from additional sources as it has progressed. Multiple students have been and continue to be trained on the project, which received support in part from an American Cancer Society Mission Boost Grant  (MBG-20-141-01-MBG) and United States Department of Defense Breakthrough Level 2 Grant (W81XWH-20-1-0153) awarded to Devi.
Bennion will continue her breast cancer research collaboration with Devi and her team in the Cell Death Laboratory; the Duke Consortium for IBC; and with the Devi Laboratory as a Mitchell Scholar for a one-year MSc in Translational Oncology at Trinity College in Dublin, Ireland.