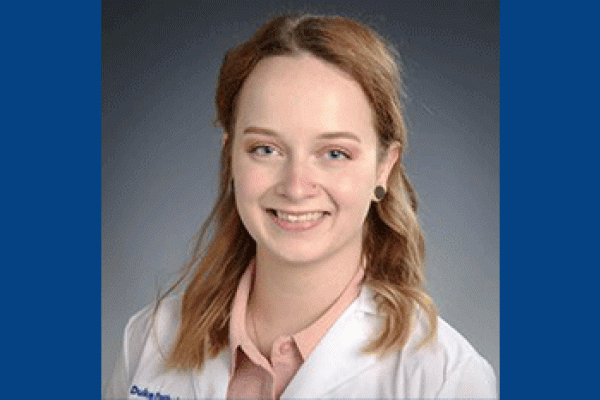 Pathologists' Assistant student Salem Sullivan has been awarded an American Association of Pathologists' Assistants (AAPA) Travel Grant to attend the AAPA 48th Annual Fall Conference in Baltimore from Sept. 24th-28th.
In her winning case, titled "Triple Negative Undifferentiated Pleomorphic Sarcoma (UPS) of the Breast: The Importance of Margins in Prognosis," Sullivan discussed the importance of margins in a radical mastectomy case for UPS.  UPS is a rare type of aggressive, and often recurrent, malignancy that typically arises in soft tissue of the extremities. UPS of the breast is exceedingly rare.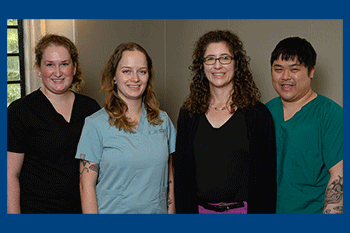 Positive margins would indicate the need for a more invasive procedure and more aggressive treatment. She was able to relate this discussion to the importance of the role of the Left to right: Staff Pathologists' Assistant and Preceptor Allison Topper, MHS, PA(ASCP)CM, who serves as course coordinator and clinical liaison in Surgical Pathology; Salem Sullivan; Dr. Rachel Factor, MD; Jonathan Chen, MHS, PA(ASCP)CM.pathologists' assistant who is responsible for the gross examination and documentation of crucial macroscopic elements (such as tumor size, distances to margins, and margin status) which ultimately helps to correctly stage the patient's tumor and determine appropriate treatment.
Duke Pathology's head of Breast Pathology and Cytopathology Fellowship Program Director Rachel Factor, MD, MS was the case pathologist; Pathologists' Assistant Allison Topper, MHS, PA(ASCP) mentored Salem's manuscript; and Pathologists' Assistant Jonathan Chen, MHS, PA(ASCP) grossed the case and took the macroscopic gross photographs.
Sullivan received a travel grant awarded by the AAPA to one second year non-delegate PA student annually, which covers expenses for attending the fall conference. The winning article is also published in AAPA's journal, The Cutting Edge.
Originally from Hartsville, TN, Sullivan chose to come to Duke with the goal of obtaining her PA certification and ultimately working at an academic institution.
"Duke has a small program, and I felt like I would greatly benefit from a more personal learning experience," she said. "Furthermore, I felt like I connected well with all of the professors in the program and the other students during the interview process!"
---