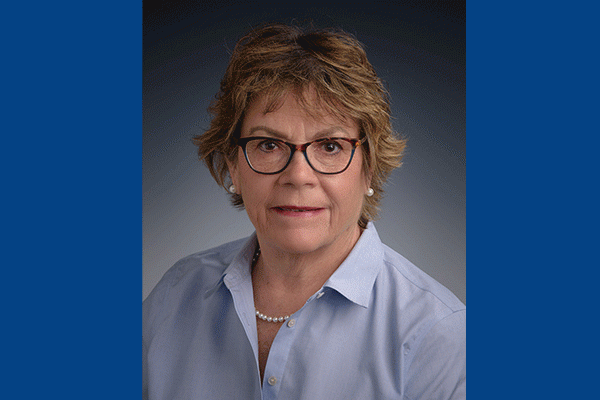 Debra "Debbie" Andersen, formerly Debbie Harris, retired from her role as GME Program Coordinator in April 2022 after nearly 48 years of service at Duke, 31 of them in Pathology. Mrs. Andersen was a strong supporter and tireless advocate for the residents and fellows who trained during her tenure, expertly and effortlessly attending to all the tasks that go on behind the scenes to keep the Residency and Fellowship Programs compliant and successful.
In 1991, she joined our department as Administrative Coordinator for the Pathology Training Program. She served as the primary liaison with the Accreditation Council for Graduate Medical Education (ACGME) and the Institutional Committee for Graduate Medical Education (ICGME)
Over the span of her career, she assured our compliance with the ACGME's complex regulations, a role that required not only extraordinary diligence but also a great deal of diplomacy. 
Mrs. Andersen orchestrated the physical, regulatory, and financial complications of residency and fellowship training in two different hospitals with different sets of ground rules, information technology systems, and faculty.  She managed that extraordinary responsibility for more than two decades with consummate skill. 
"Graduate medical education is a keystone and signature accomplishment of our department, and much of our success in this area can be traced to her tireless efforts," wrote David Howell, MD, PhD, in his nomination letter for the Susan B. Clark Administrative Leadership Award in 2012, which Andersen won.
"She is responsible each year for the immense task of orchestrating the recruitment of new house staff, and deserves a large share of the credit for the constantly high quality of our residents. Many of these talented young pathologists have gone on to positions of leadership in diagnostic pathology, research, and teaching, and not a few have ended up as mainstays on our own faculty. She was an example of tranquility and resolution in the face of adversity was an inspiration to those of us who worked with her, and a one-person support team in whom her charges placed great trust," continued Dr. Howell.
Debbie worked with four Program Directors: William D. Bradford, M.D., Patrick J. Buckley, M.D., Ph.D., Anand S. Lagoo, M.D., Ph.D., and Thomas J. Cummings, M.D. Here are a few words written by Dr. Bradford, edited to include the sentiments of us all:
"Debbie, congratulations on your outstanding career as Administrator for the Resident Training Program in Pathology.  Your professionalism, competence, integrity, and humanism have characterized all that you do and you served our program, faculty, and residents well.  We are proud of you and note the well-deserved compliments and recognition you have received from your colleagues in Graduate Medical Education and the Duke School of Medicine. You made our years as Program Director highly successful, and we consider you among the "super star legends" of Medical School Administrators."
"I have had the privilege of working very closely with Debbie, and have witnessed her monumental contributions to our department. She embodies a wide array of values and skills, including being detail-oriented, organized, reliable, accountable, humble, honest, and willing to lend a listening ear. She looked out for our residents and fellows and cares deeply for each of them. She called to check on them when needed, and has stopped by their homes to bring them groceries when they were sick or just to make sure they were okay.  Very few people will go above and beyond in this way. Debbie is a one-of-a-kind person, a rare gem, and faculty, residents, fellows, our patients, and society have all benefited from her ­­­over forty years of contributions at Duke." - Sarah M. Bean, MD, FCAP
"A generation of residents have benefited from your outstanding work in a complex role, and perhaps most importantly from your positive spirit and support when they needed it most. You are one of a kind, and we are going to miss you terribly." – Rex Bentley, MD
"You have been an incredible supporter of me, the department and our trainees. I cannot thank you enough for the extraordinary work you have done." – Jiaoti Huang, MD, PhD
"I won't forget over 22 years of your warmth and kindness. You have made a difference in the lives of so many of us (as trainees and faculty members). With everything you have managed through the years, you *never* let the stress prevent you from smiling and connecting with others. You are an inspiration to me and many of my colleagues!" Shannon McCall, MD
"You've been a cornerstone of my time in this department and have always been a source of wisdom, support, and encouragement over the years. Thank you so very much for all you have done to build, grow, and develop the residents and fellows (and faculty!). To say you'll be missed is an understatement." Sara Jiang, MD
"Thank you so very much for all you have done for me, and all the residents! I can't imagine having to navigate the ins and outs of residency, and being Chief Resident without you and all your help." Haley Davis
---