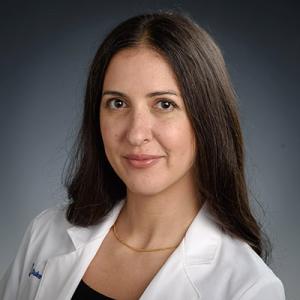 Pathologists' Assistant Student
Contact Information:
Hometown: New York, NY
College: CUNY John Jay College of Criminal Justice (for my BA in Forensic Psychology), City College of San Fransisco (Proudly, for my science prerequisites)
Career goals: I think that I would enjoy working in a large academic hospital with a variety of interesting specimens, a bit of teaching, and some research opportunities. However, as a first-year, I will likely hone my career goals over the next year.
Hobbies and Interests: Spending time with my partner and our two kids, the beach, sourdough baking, all kinds of creative endeavors, good food, live music, true crime shows, and reading (for fun!)
Why Duke: Duke's reputation, medical school curriculum, varied but local rotations, and the gorgeous campus are what attracted me to this program, but I also love becoming a Pathologists' Assistant within the halls where this profession was conceived.
Why Durham: Having lived in the Northeast and on the West Coast, I was excited to explore the South. Moving here from San Francisco, it has been really nice to experience four seasons and sunshine again. Durham is beautiful, you can be in a city, on a beach, in the mountains, or in the woods within a short drive! I love that Durham has big city offerings while still feeling small. There is so much good food and a lot to do whether you're into music, art, sports, or outdoor activities.