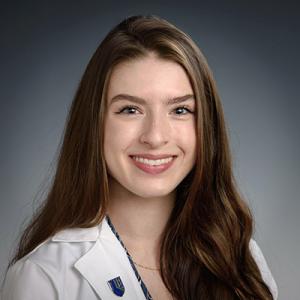 Pathologists' Assistant Student
Contact Information:
Hometown: Babylon, NY
College: Stony Brook University 
Career goals: I would like to work in a surgical pathology lab in a hospital setting. I also have interests in autopsy. 
Hobbies and Interests: I really enjoy sculpting, pyrography, and insect preservation. I also love taking my dog for hikes and listening to podcasts. 
Why Duke: I chose Duke because the class size is small, and it offered many close rotation sites. The didactic year is outstanding and has really prepared me for my rotations. I also wanted to be at a school that gave me ample experience in surgical and autopsy pathology. Duke offers everything I need to succeed in my career and I'm so thankful to be here. 
Why Durham: Durham reminds me so much of my town back home. There are so many nice shops and restaurants. I also really enjoy the state parks close by. There are many options for living off campus and my apartment is affordable and in a beautiful area. Durham also makes a great vacation spot for family and friends when they come to visit.