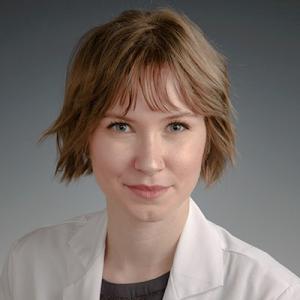 University of South Carolina School of Medicine
Contact Information:
Hometown: Columbia, SC
College: Clemson University
Medical School: University of South Carolina School of Medicine
Fellowship Plans: My fellowship plans are still to be determined.
Career Goals: I hope to work in an academic setting where I can be challenged, continue learning, and have the opportunity to train future students and residents.  
Hobbies and Interests: I enjoy short hikes, spending time with my cats and husband, playing board games with friends, trying out local restaurants and markets, and taking the occasional nap.
Why Duke: Duke provided the quality of training, supportive faculty and staff, friendly and down-to-earth residents, academic prestige, and beautiful campus I was looking for in a program. Overall, I knew my training would be top-notch and, thanks to the people and place, the process would be equally fun and rewarding.
Why Durham: There is so much to love about Durham! It has a great food scene, plenty of outdoor activities, innumerable nearby hiking trails, good cost-of-living, and fun surrounding cities.