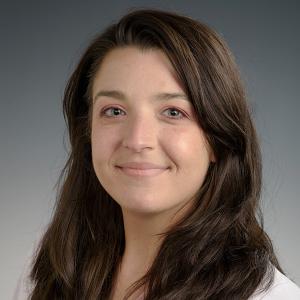 Wake Forest University School of Medicine
Contact Information:
Hometown: High Point, NC
College: Western Carolina University and NCSU, Go Pack!
Medical School: Wake Forest University School of Medicine
Fellowship Plans: Fervently torn between Forensics, Gyn Path, Head and Neck Path (…I like things with glands), and Micro, but I know I will find my forever home!
Career Goals: Simply to do what I love the most and maybe discover something amazing while I'm at it!
Hobbies and Interests: Bullying my husband into playing board games with me, watching films older than my grandmother, self-sabotaging with horrifying podcasts, and absolutely killing it at trivia night pop culture rounds.
Why Duke: It's where all the cool esoteric lab tests go, and where some of the best mentors I've had in pathology did at least a portion of their training.
Why Durham: As an NC native I know the rich cultural diversity of the Triangle makes it the hub of some of the best food and art scenes in the state!