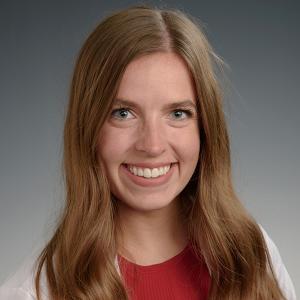 University of North Dakota School of Medicine and Health Sciences
Contact Information:
Hometown: Mayville, North Dakota
College: Concordia College in Moorhead, Minnesota
Medical School: University of North Dakota School of Medicine and Health Sciences
Fellowship Plans: I am most interested in dermatopathology at this point in my training but am keeping my mind open to other areas of pathology, as well.
Career Goals: Undecided, but am leaning towards practicing in a community or private setting
Hobbies and Interests: Hiking, water sports, card / board games, going on long walks with my husband, Jake, and pup, Louie, maintaining my houseplants, and exploring local breweries, wineries, and restaurants
Why Duke: After my interview day at Duke, I was really blown away by the kindness and passion displayed by both the faculty and residents. I felt like my interviewers were genuinely interested in me as a person and were respectful of my career goals and interests. The pathology program at Duke is very strong in AP and CP, and I knew that I would be trained to be both a confident and competent pathologist.
Why Durham: There is so much to do in Durham and the surrounding areas! Living within 2-3 hours of the beach and mountains is amazing as my husband and I enjoy being outdoors as much as possible. The food scene is amazing, and the people are incredibly friendly. I am looking forward to exploring North Carolina and all that it has to offer!