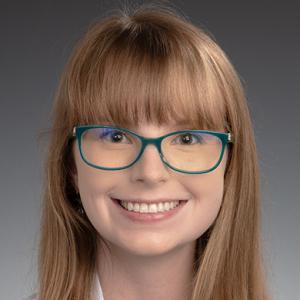 West Virginia University School of Medicine
Contact Information:
Hometown:  Tampa, Florida
College:  Berry College (BSH in Anthropology); The University of Edinburgh, Scotland (MSc in Forensic Anthropology)
Medical School:  West Virginia University School of Medicine
Fellowship plans:  Dermatopathology
Career goals: Faculty at an academic institution where I can participate in research and help mentor and train the next generation of physicians.
Hobbies and Interests:  I love gardening! I have over sixty different plants in my home and am constantly adding more. I like to find the plants that are dying and rejuvenate them. I am fascinated by nature and animals so I love backpacking, hiking, canoeing and nature photography. I also enjoy cycling, yoga, racquetball and badminton and love trying my hand at DIY crafts and projects. And last but not least, I am a dedicated dachshund enthusiast!
Why Duke:  One of the main reasons why Duke was my number one choice for residency is the people. During my interview day, everyone I interacted with was so friendly and welcoming and genuinely seemed to love working at Duke. The reputation and research opportunities offered here are world-class and the department has great fellowship programs.
Why Durham: The Duke campus is beautiful and there are so many activities in Durham. From the first time visiting the area, I knew that it was a place in which I could receive excellent training and enjoy my life outside of work.