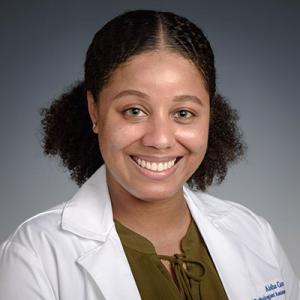 Pathologists' Assistant Student
Contact Information:
Hometown: Kingston, Jamaica
College: Florida Institute of Technology 
Career goals: To develop the first Pathologists' Assistant Program within the Caribbean
Hobbies and Interests: I enjoy playing league tennis, hiking, listening to podcasts, and traveling to try new foods and experience different cultures.  
Why Duke: I chose Duke because of its innovative approach to research and medicine, and dedication to healthcare nationwide (especially as the pioneer for the Pathologists' Assistant Program).  Duke is a caring community and every person you meet is willing to help, share their expertise, and encourage hands-on learning as a teaching hospital. 
Why Durham: Durham is very similar to my own home country in many ways: hospitable people, great food, and beautiful landscapes. I also love that Durham is a close enough drive to the beaches or mountains!