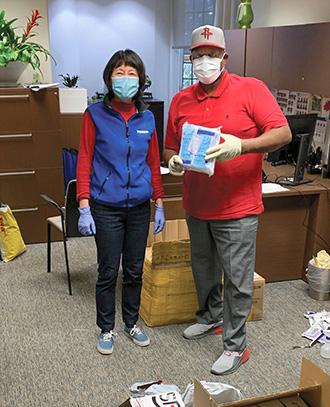 Duke's Department of Pathology Unites to Fight the Shortage of PPEs
The severe shortage of PPEs in the US threatens the safety of our frontline healthcare workers who are caring for patients infected with COVID-19.  As this crisis unfolds, the Department of Pathology at Duke has mobilized to fight this shortage. So far, Dr. Jiaoti Huang, Chair of Pathology, has received close to 100,000 face masks and other PPEs donated by local Chinese-American families as well as by colleagues in China. Every day, dozens of packages arrive via hard-working Fed-Ex, UPS and DHL drivers. We and our staff members have been sorting through these precious packages and sending them to our clinical colleagues fighting the pandemic on the front lines.
The donated PPE has been sent to Pulmonary Medicine, Hematologic Malignancy and Cell Therapy, Gastroenterology, Urology, and Duke Procurement Services. Two large shipments have also been sent to Maimonides Hospital in Brooklyn, NY, which has been hit particularly hard by this pandemic.
We want to sincerely thank those who have made the donations, and those who continue to dedicate their time and efforts to ensure the PPEs go where they are needed the most.