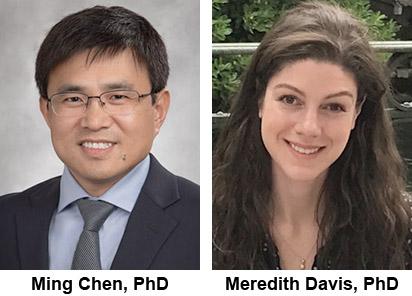 Ming Chen, PhD, and Meredith Davis, PhD, are among the 2022 recipients of the Borden Scholars Award. These grants are made possible through a generous philanthropic gift from Dr. Ernest and Louise Borden (Duke Medical and Nursing School alumni). Their gift supports one-year awards with an intent to develop a funding trajectory for junior faculty members through support for an outstanding postdoctoral fellow in their laboratory, together with associated research expenses. Dr. Borden built a successful career as a trans­lational cancer research investigator and prominent leader at institutions including the University of Wisconsin Carbone Cancer Center and the Taussig Cancer Center of the Cleveland Clinic/Case West­ern University School of Medicine. Louise became a nursing supervisor specializing in rehabilitation at university hospitals of Duke, Jefferson, and Emo­ry.
The proposal by Chen and Davis entitled "Targeting Ferroptosis in Triple-Negative Breast Cancer" will use preclinical tumor models to determine whether targeting ferroptosis is an effective therapeutic strategy against triple-negative breast cancer (TNBC). TNBC is a form of breast cancer that does not express estrogen receptor, progesterone receptor or human epidermal growth factor receptor 2. Women who develop TNBC face a poor prognosis relative to other breast cancer subtypes due to a lack of highly recurrent and actionable biomarkers that can be used to direct therapy. Therapeutic innovation for TNBC is therefore urgently needed. The proposed studies by Chen and Davis will provide the required preclinical data regarding efficacy, safety, and biomarkers for the rational design of future clinical trials targeting ferroptosis as a therapeutic strategy against TNBC.
Chen is an Assistant Professor of Pathology and Davis is a postdoctoral fellow in the Chen Lab. To learn more about the Chen Lab's research, please click here.