Sergio Piña -Oviedo, MD, was an invited speaker at the 5th International Dermatopathology Conference in Mexico City from Sept 7-9th, 2023.  This year's theme was "Del Microscopio a la Terapéutica®" (From the Microscope to Therapeutics).
He coordinated the modules on cutaneous lymphomas -a type of lymphoma that starts in the skin. He also gave lectures titled "Primary Cutaneous B-Cell Lymphomas" and "Blastic Plasmacytoid Dendritic Cell Neoplasm (BPDCN)." BPDCN is a rare and aggressive blood cancer that usually affects elderly men and initially presents as skin lesions.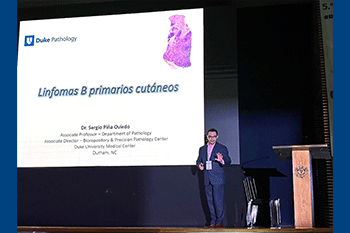 The International Dermatopathology Conference is organized by the renown Mexican dermatologist and dermatopathologist Dr. Marcela Saeb Lima, with the support of multiple Mexican and International Dermatology, Dermatopathology and Pathology Associations. Attendees include dermatologists, dermatopathologists, and anatomic pathologists. Piña-Oviedo shared the stage with multiple national and international speakers, including Dr. Saeb-Lima, Dr. Bruce Smoller (University of Rochester Medical Center), Dr. Alvaro Laga Canales (Brigham and Women's Hospital) and Dr. Carlos Torres-Cabala (MD Anderson Cancer Center).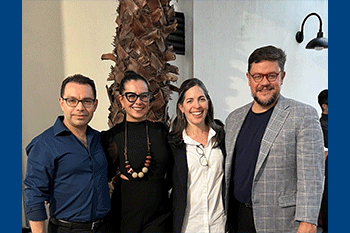 At Duke, Piña-Oviedo is an associate professor of Pathology, and associate director for Proteomics of the BioRepository & Precision Pathology Center (BRPC). His academic interests include the study of hematolymphoid tumors, thoracic/lung pathology, mediastinal lymphomas, the correlation between morphology and molecular alterations of tumors, infectious diseases, and the history of pathology, all which are reflected in his peer-reviewed publications (80), book chapters (25), and abstracts.
He is an editorial board member of Annals of Diagnostic Pathology; Section Editor in Hematopathology for Archives of Pathology and Laboratory Medicine; Associate Editor in Hematologic Malignancies for Frontiers in Oncology; Topical Advisory Panel Member and Guest Editor for the journal Cancers (Basel) and Guest Editor for the online Journal of Respiration. Piña-Oviedo is also the current president of the History of Pathology Society for the term 2023-24.