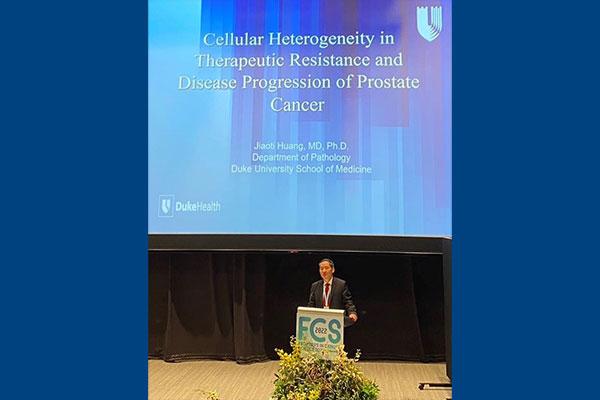 On Nov. 7th, 2022, Jiaoti Huang, MD, PhD, presented at the Frontiers in Cancer Science Conference (FCS) in Singapore at the Lee Kong Chian School of Medicine, Nanyang Technological University. He presented his research titled "Cellular Heterogeneity in Therapeutic Resistance and Disease Progression of Prostate Cancer," in which he discussed how neuroendocrine cells support cancer biology and novel approaches to target them to benefit patients who are out of treatment options.
FCS is an annual cancer conference where top experts from around the world are invited to present the newest cutting-edge research and is attended by hundreds of scientists, physicians and pharmaceutical industry workers. It provides a collaborative, interactive environment in which cancer researchers and cancer physicians share pioneering ideas and novel information.
The conference began in 2009 as a one-day symposium to facilitate the sharing and advancing of knowledge locally, as well with the global scientific community. It has grown into a major international cancer conference in the region, with over 500 participants registering each year.