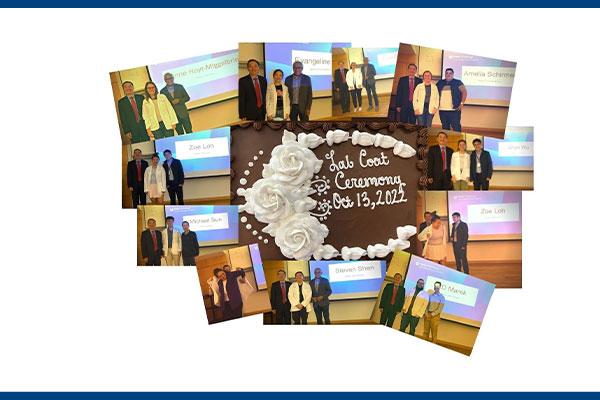 On October 13th the Pathology PhD Graduate Program launched a new milestone recognition event this year: a Lab Coat Ceremony for Post-Preliminary PhD Candidates. Soman Abraham, PhD, and Jiaoti Huang, MD, PhD, were very pleased to start this new annual tradition to recognize the passing of the Prelim milestone for our PhD candidates. It shows our recognition of their accomplishments and encourages them as they continue research and move towards the defense of their thesis projects.
All students who had passed the Prelim by October 2022 were eligible to receive a Monogrammed Department of Pathology Lab Coat, which was officially donned by their mentors at the ceremony. The brief ceremony took place immediately after the weekly seminar, and was followed by a nice reception with hearty food and bubbly drinks.
Click here to see the event photo gallery.
Lab Coat recipients for 2022:
| | |
| --- | --- |
| Student Name | Mentor |
| Evangeline Bao | Soman Abraham, PhD |
| Zoe Loh | Ming Chen, PhD |
| Robert D Marek | Zach Hartman, PhD |
| Xanne Hoyt-Miggelbrink | Peter Fecci, MD, PhD |
| Claire Otero | Sallie Permar, MD, PhD |
| Amelia Schirmer | Everardo Macias PhD |
| Steven Shen | John Sampson, MD, PhD |
| Michael Sun | Yiping He, PhD |
| Jinjin Wu | Ming Chen, PhD |
---