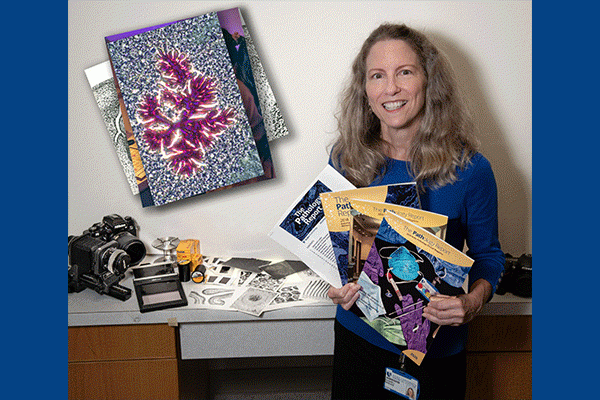 On Sept. 10, 2021, Susan Reeves, a constant presence and guiding force in the Department of Pathology's PhotoPath group for four decades, retired. For the first part of her extraordinary career, Susan concentrated on the production and assembly of micrographs and gross photographs for scholarship and teaching. Generations of faculty pathologists and trainees sat with her at the microscope and learned the fine art and science of composing and recording images for optimal clarity and effect. Susan led our PhotoPath Lab through the transition from film to digital, which required shifting processes and vast new technical skills.   
More recently, she took on the formidable task of kick-starting our website and producing periodicals, work she executed with both great skill and a deep understanding of the department's history. This allowed Susan to create our first three Pathology Annual Reports, enhanced by her portraiture skill and beautiful photography.
In all these endeavors, her efforts were informed by a passion for detail and a desire to continue the Photopath Lab's historical philosophy of high-quality craft and superior customer service, creating "illustrations of a disease process," as lab founder Carl Bishop described. Susan also shared her musical talent by coordinating the Pathological Lyres annual caroling in the wards, a much-anticipated event.
"Susan was, from the onset, unfailingly positive. I never heard her say anything negative about anyone or anything, ever! This positivity and enthusiasm were really special. AND, she was super professionally. She had outstanding taste and knew how images can best tell a story. 'Getting things right' was her goal, and she did whatever it took to make that happen. Great positivity and great skills do not always go hand in hand, but, as a winning combination, she had both!" - Peter C. Burger, MD, Emeritus Professor of Pathology, The Johns Hopkins University School of Medicine
Please join us in thanking Susan for all of her years of service and wishing her all the best in her future endeavors.
"Susan Reeves hired me as a medical photographer in 1983, I had no medical photography experience other than photographing a few medevac missions in the Army.  She took me under her wing and shared the "Duke Pathology" way. We spent many hours photographing at our gross stand and microscope and then at a light box reviewing Kodachromes and negatives.  'Getting it right and making it better' was her mantra!  She was a wonderful mentor and sounding board and I appreciate the opportunity to have worked with her for 38 years!" – Steve Conlon, Senior Medical Photographer, and Photography Course Director
"I worked with Susan throughout her forty-year career in the Pathology Department. During this time, photomicroscopy progressed from large-format black and white film to color slide film to digital photography. Throughout, Susan was a master photographer. She combined an artist's eye with her technical skill to prepare wonderful event photographs, portraits, gross and microscopic images, and composite figures. Susan was always a professional in her work and a pleasure with whom to work. Her retirement was a loss to our department."  - Alan D. Proia, MD, PhD
"It is very sad to see you leave – you are irreplaceable! However, I totally understand that after 40 years, you must have many other passions to explore given the very wide range of your interests and talents.  The department would not be where it is without you, and we are all beneficiaries of your brilliance.  We will truly miss you."  - Jiaoti Huang, MD, PhD (Chairman, Department of Pathology)
"During her extraordinary four-decade career in the Department of Pathology, Susan Reeves constantly envisioned science through the lens of art.  Though she absorbed a great deal of the subject matter of our specialty over the years, and knew more about microscopes than the vast majority of pathologists, she was at her best when she helped us express our ideas through images.  Being a part of her visual (and musical) creative world enriched us all."  - David Howell, MD, PhD
"You've had a magnificent career and assisted so many of us countless times.  You are the consummate professional--always sharing your considerable talents and expertise in such a calm and reassuring manner.  Many thanks for making us look better than we really are and best wishes for the adventures that await in the next stage of life!"  - Bruce Lobaugh, PhD, MS

"The work you have done in the department has always been absolutely exemplary. Your attention to detail, commitment to excellence and passion for your job have been a gift to all of us. I know that you will flourish in whatever is to come. Thank you for all you have done for me and for the department over the years!" - Andrea Deyrup, MD, PhD
"What a joy to work with you. You were one of the first people I met 30 years ago when coming to the Dept.  I always remember your smile, and your perkiness which you always kept, regardless of what problems were around. And you always had solutions."  - Stanley Robboy, MD, Professor Emeritus
"Thank you so much for all you have done for the Department of Pathology over the years and since we met 21 years ago.  Your steadfast efforts have improved our clinical work, our research endeavors, and our ability to train the next generation of pathologists.  Speaking of that, can you imagine how many pathologists would not be able to properly focus and illuminate their slides without your patient instruction?  Your artistry on our current website design and our annual reports has shown us all in such a good light -- you have left a deep mark on the Department and also left some really big shoes to fill. Through it all, you have done it with a warm demeanor and a smiling face -- you will be dearly missed.  I wish you peace and satisfaction in this next phase of your life -- it will not be the same around here without you!" - Shannon McCall, MD
---