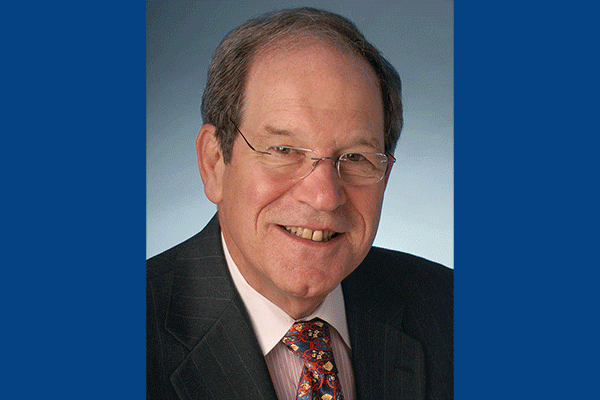 Dr. Robboy began his career as a resident at Mass General Hospital, served in the U.S. Army, and returned as a young faculty member. It was there that his colleagues and he made a huge discovery. It was the first time a cancer had been tied to a drug, diethylstilbestrol (DES), that had crossed the placental barrier. For the next 15 years, he says, "that became my life at Mass General."
At Duke, Dr. Robboy was Professor and Vice Chairman of Pathology, Professor of Obstetrics and Gynecology, and Chief of the Division of Diagnostic Pathology. In addition, he was elected as president-elect and then president of the College of American Pathologists (CAP) (2009-2013).
During his leadership of the CAP, he sought to determine health of the pathologist workforce in the U.S. As part of the work, Dr. Robboy discovered that the Association of American Medical Colleges (AAMC), the agency which reports the most authoritative analysis of the workforce for all parts of the U.S. House of Medicine annually, was undercounting by 40 percent the actual number of pathologists. He found that all persons with subspecialty training (fellowship years), such as in cytopathology, dermatopathology, hematopathology, forensic pathology, and others, were being omitted. This finding clarified why the specialty of pathology seemingly had shrunk during the past decade.
In the July 16, 2020, issue of JAMA Network Open, Dr. Robboy and his CAP colleagues reported their discovery of AAMC's flawed methodology adversely counted pathologists properly for workforce purposes. See "Re-evaluation of the U.S. Pathologist Workforce Strength."
Despite "retiring," Dr. Robboy remains active with the CAP, serving on the Council for Membership and Professional Affairs and Policy Roundtable Subcommittee. In addition, he and his team are currently working with the AAMC to correct and improve the algorithm used for workforce counts.
 "Of his many contributions to the Department during 30 years as a professor, Stanley Robboy is perhaps most fondly remembered as a mentor. Many young pathologists in his specialty area of gynecologic pathology got their first experience with scientific writing under his aegis. As Chair of our Departmental Appointments, Promotion & Tenure Committee for two decades, he shepherded dozens of faculty members (including these two writers) through the elaborate promotion process, particularly the sometimes-awkward exercise of writing laudatory prose about oneself. He was a prominent figure in the national pathology community, serving for many years as a leader of the College of American Pathologists (President in 2011-2013 and Pathologist of the Year in 2014). Even here, one of his primary goals was introducing young colleagues to the organization as a means of building networks and furthering their careers. Beyond that, the departmental parties he hosted with his wife, Marion, were for many years a focal point of departmental togetherness – a tradition that continues today." - Sara E. Miller, PhD, and David N. Howell, MD, PhD
"I will forever be in debt to Dr. Robboy.   When he arrived at Duke, he took me under his wing as his first Gynecological Surgical Pathology fellow. He patiently taught me gynecologic pathology and shared his incredible collection of unusual cases. As a mentor, he was generous to a fault. He provided me many opportunities to participate in national-level meetings and arranged for me to spend several weeks with Dr. Jason Norris at the AFIP, one of the giants in the world of gynecological and breast pathology at the time, an experience that I have never forgotten.   He was always happy to look at a difficult case or help a younger colleague with their career development.   To a large degree, any success I have had in my career I owe to Dr. Robboy. "- Rex Bentley, MD
Click here to view a video honoring Dr. Robboy's career and retirement.
---